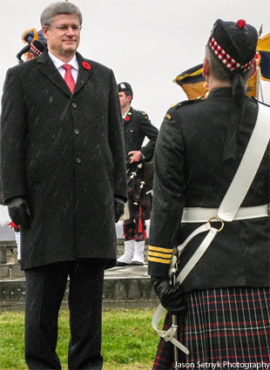 Prime Minister Harper Visits Cornwall Area
November 14, 2013
Cornwall Ontario – This year's Remembrance Day held extra significance as it coincided with the 200th anniversary of the War of 1812, a pivotal conflict that shaped Canada's future.
On Monday, Prime Minister Stephen Harper joined a large audience at Crysler Farm, near Morrisburg, at a ceremony Monday marking the 200th anniversary of the Battle of Crysler's Farm, where defenders beat back an American invasion that secured the future of Canada.
"Today the Americans are our great friends and our strongest allies and have been for many decades through thick and thin," said Harper, standing next to the huge battle memorial that overlooks the St. Lawrence River. "Two hundred years ago, however…Canadians – English, French and Aboriginal, stood here with their British allies against an American invasion. The very existence of their communities…was at stake. They were outnumbered by an invading force almost three to one, yet they won here a great and decisive victory."
Prime Minister Harper and Lt.-Col. Rob Duda of the Stormont, Dundas and Glengarry Highlanders – the local regiment that was born out of the War of 1812 – inspected the troops before the ceremony began.
On November 11th, 1813, a group of 4,000 American troops attacked a group of 800 British Regulars, militia and Mohawk warriors at Crysler's Farm. The outnumbered force rebuffed the Americans after a hard fought engagement.
The American forces then travelled east and occupied Cornwall as part of their overall mission to take Montreal. The town and its store of military supplies had been evacuated earlier.  The occupying forces would soon abandon their goal of taking Montreal and retreated across the river to winter quarters under the watchful eyes of the local militia.
Within a week, Cornwall was reinforced with more men to protect river transport.  By early 1814, there were over 800 troops stationed in Cornwall.
This important moment in Cornwall's history was recently commemorated with a new plaque at the historic Counties building at the corner of Pitt and Water streets.
Perhaps one of the most appropriate comments came at the annual Remembrance Day ceremony in Cornwall.
"Today … we come together, first of all, to pray for those who have died," said Father Kevin Maloney, who opened the ceremony with a blessing and a prayer."Remembrance Day is a time to remember, it is a time to pray. But it is a time to realize that war itself is not something that we are proud of. Our prayer is always for peace."
Canada and the United States have been peaceful allies for over a century.
The above photo was taken by Jason Setnyk, a photographer based out of Cornwall.