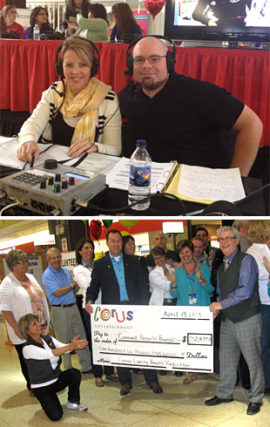 Radiothon Raises $102,877 for Obstetrical Ultrasound
April 20, 2013
Cornwall Ontario – The Corus Caring Hearts Radiothon has raised over $102,000 which will be used to purchase a new obstetrical ultrasound for the Cornwall Community Hospital.
The Radiothon is an annual event organized by the staff of Corus Cornwall in support of the Cornwall Hospital Foundation. Dozen of volunteers took to the phones on Friday, April 19 at Cornwall Square, and donations started flowing in from hundreds of donors.
"I am overwhelmed by the support of this community who always rises to a challenge when asked," said Connie Vardy, Executive Director at Cornwall Hospital Foundation. "We are indeed lucky to have donors who support our fundraising goals. The amount raised will help us to purchase this equipment that much more quickly. Thank you."
Obstetrical ultrasounds are used as needed throughout the entire term of a pregnancy. It is an effective diagnostic tool because it does not hurt the baby or the expectant mother in any way.
Obstetrical ultrasounds are also used to check for ovarian cysts and tumors, fibroids or any other anomalies that can affect a woman.
CCH receives 350,000 patients a year. Last year, the hospital helped more than 219,000 patients in the diagnostic imaging department alone and conducted almost 21,000 ultrasounds. The hospital was happy to welcome 523 babies in its maternal care department.
The Diagnostic Centre of Excellence will house the hospital's seven (7) ultrasounds as well as all the other diagnostic testing equipment. Patients will only have one spot to go for all their diagnostic tests.
Earlier this year, the Cornwall Community Hospital Foundation announced the successful completion of their $3.5 million fundraising campaign that saw the purchase of an MRI and Digitial Uruology table.
"We owe a great debt to Corus Entertainment Corporation and staff," adds Allan Wilson, Foundation Board Chair. "They make organizing this fun event look easy. On behalf of the Foundation Board I thank all those who contributed to the success of this year's Corus Caring Hearts Radiothon."
About Corus Cornwall
Corus Entertainment operates two FM radio stations in Cornwall: Variety 104.5, and CJSS 101.9. Corus also maintains a full newsroom in Cornwall, which can be found online at The CornwallDaily.com.The Corus offices are located in the historic Cotton Mill district along the banks of the St. Lawrence River.
About the Cornwall Community Hospital Foundation
The Foundation's mission is to raise funds for the Cornwall Community Hospital's programs, medical equipment, expansion and renovation with the objective of supporting enhanced quality health care in our greater community. The Foundation is a registered not-for-profit organization that works diligently to earn outstanding levels of support from donors, volunteers and the greater community.
For more information, please check out the Foundation website at: