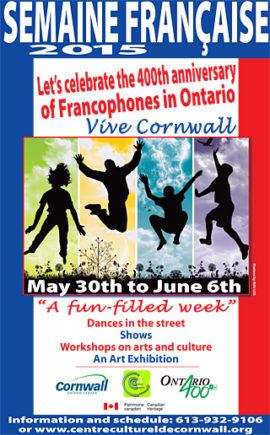 Semaine Française Returns To Cornwall In Grand Fashion
May 22, 2015
Cornwall Ontario – A week long celebration of French heritage in Cornwall returns this year in grand fashion, just in time for the 400th anniversary of the arrival of Francophones in Ontario.
La Semaine française will take place between May 30 and June 6, 2015 and includes a long list of events and activities. You can find the complete schedule of events by clicking here.
"We are inviting the whole community to celebrate with us the 400th anniversary of the arrival of Francophones in Ontario," said Lucie Hart, President of the Centre culturel de Cornwall. "There will be activities for people of all ages."
The week will start off with a Community Garage Sale and Wine and Cheese at La Centre Culturel at 327 Montreal Road.
On Sunday May 31, the Garage Sale continues in the morning and  Montreal Road will be closed between McConnell Avenue and Albert Street for more celebrations during the afternoon. There will be activities for children, live entertainment and dances in the street.
All children who will carry the colors of Semaine francaise (blue, white and red), can enter their name in a contest and prizes will be drawn every 15 minutes.
Birthday cake will be served at 2:45 pm for everyone present. There will be joy and fun for young and old.
Exhibitions, lectures, a small cafe and various other activities will take place throughout the week.
On Friday, June 5 and Saturday, June 6, the celebration will move to Lamoureux Park for Vive Cornwall. The fun will get underway each day at 9 am and there will be inflatable games, a little farm, an interactive display about Champlain, live music, food and much more!
All activities are free, except for food.
400 years is worth celebrating in style!
Vive Cornwall, Vive la Francophonie, Vive the 400th.
For additional information on the 400th anniversary celebrations, click here.