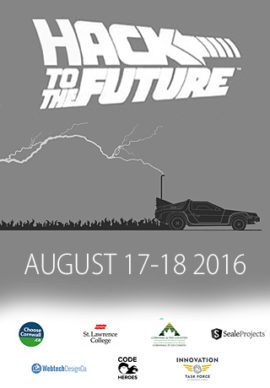 Hack to the Future Set to Attract Cornwall's Brightest
July 28, 2016
Cornwall Ontario – Local innovators, strategists, creatives, and technologists will gather for Hack to the Future, a unique 48 hour event taking place August 17th and 18th at St. Lawrence College.
"We are looking for 25 bright minds who want to make a difference in the community and who love a fun challenge!" says Kelly Bergeron, owner of Code Heroes and event organizer. "This will be the first time a hackathon has been held in our community, and already we have had a lot of interest."
A hackathon is a collaborative competition where creative minds young and old alike get together to figure out novel and innovative ways to fix pressing issues in the community. For 2 days, participants will be split up into groups and will come up with ways that technology can be used to build solutions for these challenges. At the end of the competition, the winners will pitch and demo their solutions. The winners will be selected by a panel of judges and awarded a cash prize.
Organizers will be supplying snacks and lunch on site, as well as some cool swag for participants.
The hackathon is free and open to those who are 12 years old and up. You can register online as a participant, mentor, or spectator at :
"Even if you do not want to compete, there are opportunities for people to take an active role in the hackathon," says Ms. Bergeron. "We would love to get local tech talent out to help mentor the teams and to help run the event from a logistics standpoint."
Hack to the Future is being organized by Code Heroes and the Innovation Task Force.
"We are excited to put on this event to help empower those looking to use technology to facilitate positive changes in our community," said Ryan Seale, Owner of Seale Projects, and one of the sponsors of the event.
You can learn more online:
About Code Heroes
Code Heroes is a non-profit organization dedicated to bringing technology and innovation classes to the Cornwall community and surrounding areas. Earlier this year Code Heroes launched Cornwall's first-ever "Learn to Code" program, helping neophytes and tech-savvy kids alike learn more about opportunities created by technology.
About the Innnovation Task Force
The Innovation Task Force is a group of energetic members of the community who have an interest in seeing Cornwall grow by embracing change. It was formed to identify opportunities where technology could benefit the people of Cornwall and area, in order to create new opportunities for people of all ages and all skillsets.
Categorised in: Community