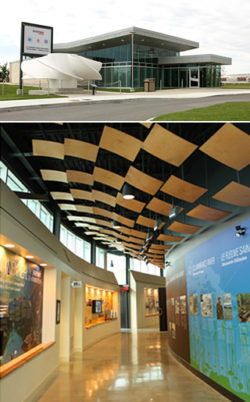 OPG Visitor Centre Opens for 2018 Summer Season
May 24, 2018
Cornwall Ontario -One of Cornwall's most popular attractions has opened its doors for the season.
The St. Lawrence Power Development Visitor Centre is ready to welcome visitors for another summer of interactive learning at its beautiful facility on the banks of St. Lawrence River.
The OPG Visitor Centre offers a chance to learn about the history of the St. Lawrence Seaway and Power Project, one of Canada's largest engineering projects. The Centre is equipped with interesting exhibits with explanations ranging from how electricity is generated in our area to information about Mohawk and Native American culture.
The fascinating building not only has a spectacular view of the St. Lawrence and RH Saunders Generating Station for visitors to enjoy, but also offers a wide range of unique activities. Visitors have the chance to chase a virtual electric eel up a ladder, spin a turbine to create electricity, watch videos about the creation of the dam, and learn to balance power production first-hand by becoming an operator for the day.
"We are excited about another tourism season here at the visitor centre," says Matt Mulvihill, Communications Officer. "We hope to see many people come out to experience all that the centre has to offer."
Indeed, there are many things happening at the Visitor Centre this summer. First up on the list is the 25th annual Symposium of the Great Lakes and St. Lawrence Ecosystem. Scientists, environmentalists and community members will gather at the OPG Visitor Centre on May 30th and 31st to discuss a wide range of freshwater issues.
Hours of Operation
The Visitor Centre is typically open May through September and closed October to May. Please check for current hours of operation.
Location
The Visitor Centre is located in Cornwall's west end at 2500 Second St. W. Simply continue all the way west down second street and follow the signage toward the centre.
GPS coordinates:
45o 00' 30.2" N
74o 47' 1.4" W
About the St. Lawrence Power Development Visitor Centre
The Visitor Centre is located on the bank of the St. Lawrence River east of the Robert H Saunders Generating Station. This 13,000 square foot gold level LEED building opened in the summer of 2010 and is the new home of OPG's many stories. It recounts the fascinating history of the St. Lawrence Seaway and Power Project and addresses its impact on specific communities such as the Mohawks of Akwesasne and the Lost Villages. There is a variety of video presentations available, and displays on hydroelectric, thermal and nuclear generation, safety around power facilities, the American eel and the St. Lawrence Seaway. As well, a community room is available for use by local organizations.
For more information on The St. Lawrence Power Development Visitor Centre please contact 613 932-4563 ex. 3520 or visit them online: