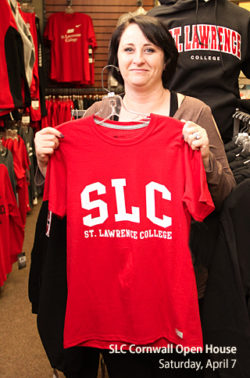 St. Lawrence College Open House this Saturday
April 6, 2018
Cornwall Ontario – St. Lawrence College will be holding an Open House this weekend at the Cornwall campus from 9:00am to 12:00pm.
"The open house provides prospective students and their parents with a chance to see first hand what college life is all about," says Debbie Stava, Dean of the Cornwall Campus. "Whether you are just beginning your search for a college or ready to make a decision; you'll get everything you need to know about St. Lawrence College's programs, admission process, student services and campus life."
The Cornwall Campus of St. Lawrence College is nestled on the banks of the St. Lawrence River, immediately adjacent to the popular scenic trail. The campus has recently received a major redevelopment, resulting in new class rooms, new equipment and an overall improved experience.
The Spring Open House is an event for anyone interested in learning more about St. Lawrence College, including high school students considering a post-secondary education, high school graduates, current SLC applicants, teachers and guidance counsellors, parents and guardians, and individuals wishing to make a career change or upgrade their skills.
Open House provides the opportunity to:
Visit one or more of our full-time program sessions
Speak to College faculty, staff, and current students
Take a tour of our campus, including residence
Connect with our services, including Financial Aid, Counseling and AccessAbility, Career Services, Residence, meal plans, and more
Take advantage of our on-site Application Station to submit your application on the spot!
Event Schedule
8:30am: Doors open
9:00am – 12:00pm: Student Life & Services Fair
10:00am: Program Sessions
11:00am: Campus Tour (including Residence)
To learn more, visit www.stlawrencecollege.ca/OpenHouse
About St. Lawrence College
Located along the shores of the St. Lawrence River, St. Lawrence has College has three campuses in Brockville, Cornwall and Kingston. The College boasts 6,500 full-time students from Canada, and more than 40 countries worldwide. The SLC college community includes 20,000 part-time students, 1,000 staff, and more than 70,000 alumni. The college has recently invested in the development of Applied Research and the revitalization of its campuses.
You can find out more information on the St. Lawrence College website:
St. Lawrence College is also featured in the new edition of Cornwall Living magazine. You can order your complimentary copy by clicking here.
Categorised in: Community