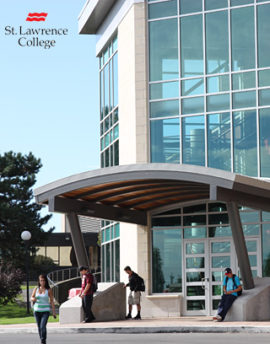 St. Lawrence College to Graduate 534 Cornwall Students
June 7, 2013
Cornwall Ontario – Today is graduation day at St. Lawrence College in Cornwall, and by nightfall 534 students will have walked away with hard-earned diplomas. Three ceremonies are scheduled to honour their accomplishments (10:00 am, 1:30 pm, and 5:00 pm) at the Aultsville Theatre on the Cornwall campus.
The 10:00 am ceremony will be held for students graduating from programs in the School of Health Sciences. The Valedictorian address will be delivered by Dana Rugless, who will graduating from the Bachelor of Science in Nursing program.
The afternoon ceremony will be held at 1:30 pm for students graduating from programs in the School of Applied Science and Computing, Business, Justice Studies and Applied Arts, Part-Time Studies, and Corporate Learning and Performance Improvement. The Valedictorian for the afternoon ceremony is Diane Hunter, who is graduating from the Journalism program.
The evening ceremony at 5:00 pm will see students graduate from the School of Community Services and Skilled Trades and Tourism. The Valedictorian address will be delivered by Early Childhood Education graduate, Megan R. Lafave.
The afternoon ceremony will feature an address from this years' Honorary Diploma recipient, Sean Adams. Each year, St. Lawrence College recognizes the outstanding achievements of individuals or organizations whose accomplishments are of such excellence, inspiration and leadership that they serve as an example for the students and graduates of our college with our Honorary Diplomas.
Sean Adams maintains a busy law practice and still finds the time to be involved in numerous charities and be an inspiration for all committed to serving others.  A former Citizen of the Year, Mr. Adams exemplifies the humanitarian impulse to serve others and has helped to improve the quality of life for many in the Cornwall community.
"Convocation is one of the best days of the year for us at SLC," said Glenn Vollebregt, President and CEO of St. Lawrence College. "Watching our students walk across the stage and become graduates of our college makes us so proud, because we know the hard work, time and energy they devoted to get to that point. We aren't just recognizing the accomplishment of our students, we're also celebrating the start of the next steps in their journey and that is really exciting."
Graduation from St. Lawrence College is not only a milestone in the life of a student, it is also a valuable achievement in terms of career opportunities.
St. Lawrence College is tops in the province when it comes to key performance indicators of a graduates success in finding employment. The following are updated KPI's for 2013.
93.6% of employers were satisfied with the quality of the educational preparation of St. Lawrence College graduates.
90.5% of SLC graduates found employment within six months of graduation.
84.1% of graduates were satisfied with the usefulness of their SLC education in achieving their goals after graduation.
About St. Lawrence College
Located along the shores of the St. Lawrence River, SLC has three campuses in Brockville, Cornwall and Kingston. St. Lawrence College boasts 6,500 full-time students from Canada, and more than 40 countries worldwide. The SLC college community includes 20,000 part-time students, 1,000 staff, and more than 70,000 alumni. It also serves more than 3,000 Employment Services clients annually. The college has recently invested in the development of Applied Research and the revitalization of its campuses.
You can find out more information on the St. Lawrence College website:
St. Lawrence College is also featured in the new edition of Cornwall Living magazine. You can order your complimentary copy by clicking here.
Categorised in: Community