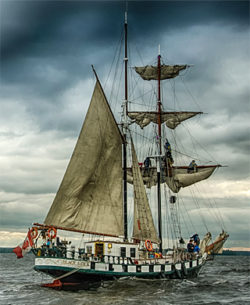 Tall Ship Black Jack Visiting Cornwall in July
March 29, 2018
Cornwall Ontario – Cornwall's connection to the St. Lawrence River will be celebrated on Saturday, July 21st with a brand-new event, the Great River Day.
The event will be held at Cornwall Harbour and the highlight will be a visit from the tall ship Black Jack. Built in the style of a traditional 18th century tall ship, the Black Jack is sure to please both the young and young at heart.
It will be docked at Cornwall Harbour and residents will have a chance to examine the 87-foot vessel up close.
"It should be a lot of fun," said Karen Cooper of the St. Lawrence River Institute of Environmental Sciences, which is organizing the event. "People will be able to go on board and take pictures. Who doesn't want to be on a tall ship?"
The new event stemmed from last year's visit by the Canada C3, a cross-country expedition held as part of Canada's 150th anniversary celebrations.
"It was a huge success," said Mrs. Cooper. "It was great to have the C3 at the Harbour and so many people turned out to see it."
The hope is Great River Day will build on that visit by the C3 and become a new tradition at the Harbour for years to come.
"This is going to be a huge celebration of the river," said Mrs. Cooper.
In addition to the tall ship visit, there will also be interactive displays and exhibits and other activities at the Harbour.
The Black Jack is operated by the Ottawa-based youth charity Bytown Brigantine and it is used for summer camps and other events.
About the River Institute
Based in Cornwall, the River Institute is a leader in research, education, and community action on large river ecosystems in Canada and the world. The non-government organization has gained international recognition for its dedication to freshwater research, education, community action, and technical services. The organization hosts a variety of different events throughout the year.
Find out more here:
Additional Event Info
Looking for other fun things to do in Cornwall? Make sure to check out our Cornwall Tourism's online event calendar!
Categorised in: Community