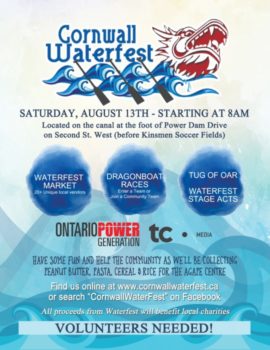 The Seventh Annual Cornwall Waterfest is Back this Weekend
August 9, 2016
Cornwall, Ontario – One of Cornwall's most popular summer events is drawing nearer, bringing friends, family and co-workers to Cornwall's beautiful waterfront.
Cornwall Waterfest will take place this Saturday, August 13th, offering everyone a chance to try out the exciting and widespread watersport of Dragon Boat racing.
Located at the foot of the historic Cornwall canal, this free event will offer something for everyone, with dragon boat races, live music, artists, food vendors, and more!
Dragon Boat Races
Waterfest's signature event is the Dragon Boat races, where teams of 21 compete for the honour of being champions on the canal.
Anyone is able to organize a team and take part in the Dragon Boat Races. This year teams from the Ottawa Police, NAV Canada, Emard Lumber, SigmaPoint, and Unpaddlables, among others, will battle for the championship.
Those who are interested in being a part of the Dragon Boat races can register online at www.cornwallwaterfest.ca. Information about rules, regulations and equipment are also on the website.
Waterfest Market and Stage
In addition to the popular dragon boat races, spectators will have a chance to browse the unique Waterfest Market featuring over 20 local vendors.
"In the Market we'll have a great variety of local arts, crafts and services offered for the day," said Kate Dwyer, Waterfest Market organizer. "For example, we have a psychic, a spray paint artist, plush monsters for sale, and silverware jewellery."
The Waterfest Stage will keep everyone entertained in between races by featuring a variety of local talent including the MacCulloch Dancers, BCDC, Ryan Mcgillis and Kathleen Sauve.
Cornwall Transit
To assist people in getting to the event, Cornwall Transit will be diverting its Riverdale route (Bus route #4) on Saturday, August  13th to pick up and drop off passengers near the site of the festival.
"For the 7th year Cornwall Transit is proud to partner with Cornwall Waterfest so the community can enjoy this great event," said Jean Marcil, Training and Shift Supervisor at Cornwall Transit.
Donations
This year, Waterfest will also be collecting much needed peanut butter, pasta, cereal and rice for the Agapè Centre, Cornwall's local food bank and soup kitchen. Those who donate will receive a free Waterfest button or a temporary tattoo.
Volunteers
Volunteers are needed to assist with various activities on the day of the event.
"This year will be our 7th year," said Dwyer. "Our committee is always looking for volunteers to keep Waterfest growing."
Interested individuals are asked to contact Kate Dwyer by email at kate_dwyer@me.com.
Waterfest will begin at 8:00 am on Saturday, August 13th at Lock 19 of the old Cornwall Canal. It is located near the Soccer Fields just off of Second Street West and Power Dam Drive. The event is free for spectators and everyone is encouraged to bring blankets, chairs and spend the day by the beautiful river.
For more information about Cornwall Waterfest, please visit the following websites:
Categorised in: Community