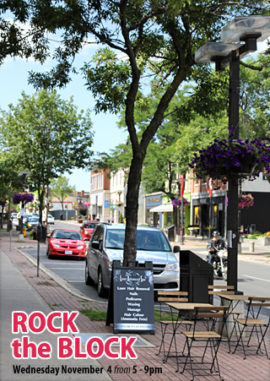 Third Times the Charm for Rock the Block
November 2, 2015
Cornwall Ontario – This Wednesday November 4, Cornwall's downtown merchants will be hosting a sneak preview of their wares in an event they call "Rock the Block." And with warm sunny weather expected for the middle of the week, its a great time to take a stroll downtown.
"Excitement has been building for a several weeks now," says organizer Chris Munro, owner of Life's Little Pleasures. "The event is very popular with our customers, and it creates a very special vibe as people walk the sidewalks and meet their friends and neighbours."
Over 20 businesses will be participating in the event which runs from 5:00pm to 9:00pm. Merchants will be showcasing their newest collections while restaurants will be cooking up special meals to celebrate the season. Shoppers from out of town can also find a warm bed at Chesley's Inn.
"There will be something for everyone, including special discounts, draws, giveaways, demonstrations and more," says Ms. Munro. "We had a great turnout last year. Our merchants stay open a little later to allow people to catch an early dinner and still get some shopping in!"
Life's Little Pleasures will be celebrating it's 30th year in business and will be collecting hat, mitt & scarf donations for Warm Up Cornwall. St. Lawrence College students will also be collecting apples for the Agape Centre.
Other merchants will be offering discounts, draws and other specials. Restaurants are putting on a special menu items.
This is the third year that Downtown Merchants have held a special night of shopping. You can find more information on Facebook:
Participating businesses:
Life's Little Pleasures
Schulman's Men's & Ladies Clothing
PURE Esthetics & Massage
Laser Advanced Spa
Bicycle World
Cottage Blue Home
The Grind
Cornwall Yoga Studio
Aube Freres
OBO studios
Love Love Food
The Homefinder
Echo Trends
Dreamland
Moustache Joe's
The Loft Salon
Studio 101
Alpins Interiors
Val & Paulie's Diner
The Mindful Cookery
Kid's Korner
Oasis Hair And Day Spa
Shifting Creations
Bar Q
Truffles
ESCA
Pommier Jewellers