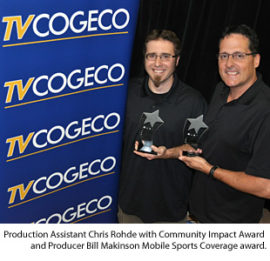 TVCOGECO Continues its Award-winning Ways
May 31, 2013
Cornwall Ontario –  Cornwall's TVCOGECO made it to the podium again at the recent 10th Annual Star Awards in Oakville. The event recognizes the finest in TVCOGECO productions throughout the company's 21 local television stations across Ontario.
Cornwall's TVCOGECO – channel 11 took home two awards:
Mobile Sports Coverage
Cornwall won the award for Small System mobile sports for coverage of the 2012 Ontario Junior Little League Baseball Championships. The coverage was produced by TVCOGECO's Bill Makinson and Community Producers Sue and Chris Poirier.
Outstanding Community Impact
The entire Cornwall team won the award for small system Outstanding Community Impact for coverage of the 2012 TVCOGECO Telethon For Hospice that helped raise $115,000 for the operation of the facility.
"We are so proud to be recognized for our programming this year" says Station Manager, Calvin Killoran. "Television production is a major team effort and we share this with our dedicated group of community volunteers who work with TVCOGECO staff members to bring our community truly local television."
The TVCOGECO 10th Annual Star Awards will be aired tonight at 8pm, Tuesday, June 4th at 9pm and available on TVCOGECO on Demand Channel 602 beginning Monday June 3rd. Please check your local tvcogeco.com website for additional air dates.
About TVCOGECO
TVCOGECO is a community service provided by Cogeco Cable. Cogeco personnel and Volunteer Community Partners utilize local production resources to produce the local and regional television content only available on our TVCOGECO cable channel. This includes broadcast of City Council meetings, and the popular Focus Cornwall biweekly show.
About COGECO CABLE
Cogeco Cable is a telecommunications corporation and is the 11th largest hybrid fibre coaxial cable operator in North America operating in Canada under the Cogeco Cable brand name in Quebec and Ontario, and in the United States through its subsidiary Atlantic Broadband in Western Pennsylvania, South Florida, Maryland, Delaware and South Carolina.