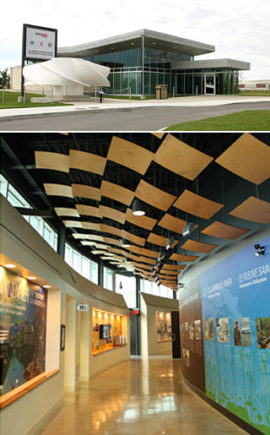 Visitor Centre Hosting Series of Fun Events
June 6, 2013
Cornwall Ontario – The St. Lawrence Power Development Visitor Centre is once again gearing up for an exciting summer of activities and events in Cornwall.
The attractive building is located on the banks of the St. Lawrence River and offers a fun and unique outing for families – in addition to some spectacular views of the R.H, Saunders hydroelectric facility. Whether you are chasing virtual eels up a ladder, spinning turbines and making electricity, or working as an operator to balance the power needs of river users, you are sure to learn about Cornwall's historic Seaway and Power Dam in a fun, friendly, and scenic environment.
This summer, the visitor centre is hosting a number of events – all free of charge:
Bring Back the Wild –  Saturday, June 8 (11am & 1pm)
Earth Rangers is a not-for-profit organization dedicated to educating children about the environment. Using animals and a sense of wonder, Earth Rangers connect the natural world to children's lives and teach them to love the environment.
Insects – Saturday, June 22 (12 – 4pm)
The St. Lawrence River Institute will create a buzz of entertainment and knowledge as they teach about the biological importance of our areas smallest critters. Participants will learn neat facts about invertebrates, arachnids and more as they catch, handle, and identify some of the region's most interesting insects.
Fish – Saturday, July 6 (12 – 4pm)
The River Institue is back to help us identify the St. Lawrence River's fish population. Interact with live specimens and learn about the species' roles in the environment in a fun atmosphere. Learn interesting facts on your favourite species that will let you appreciate our river even more.
Bats – Wednesday, August 7 (7-9pm)
Learn about the mysterious and exciting lives of bats in this unique opportunity presented by the River Institute. Participants learn about the role these nocturnal critters play in the ecosystem, and some of the threats and challenges they face every night from predators and humans.
All events are free of charge and encourage active participation. Families will bond as they learn about Cornwall's ecosystem, history, and diversity.
For more information, visit www.opg.com/stlawrencevisitorcentre , or call 613-932-4563.
About the Visitor Centre
Ontario Power Generation's St. Lawrence Power Development Visitor Centre is located on the bank of the St. Lawrence River east of the Robert H Saunders Generating Station. This LEED building is the permanent home of exhibits and artifacts concerning the St. Lawrence Seaway and Power Project. There is a variety of video presentations available, and displays on hydroelectric, thermal and nuclear generation, safety around power facilities, the American eel and the St. Lawrence Seaway. As well, a community room is available for use by local organizations.
The Centre is open to the public from Monday to Friday, 9 a.m. to 4:30 p.m., and at other times by special arrangement.
The Centre is located at 2500 Second Street West in the west end of Cornwall, Ontario.
Categorised in: Community