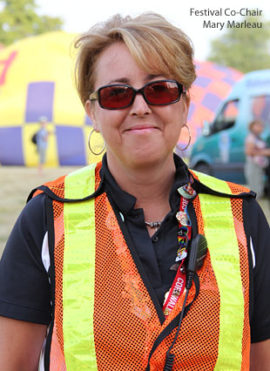 Volunteers the Wind Behind Lift-Off's Success
July 5, 2013
Cornwall Ontario – Soon, Cornwall's skies will be filled dozens of hot air balloons and Lamoureux Park will entertain thousands with great music, concessions and midway rides. Behind the bright lights and colours of Kinsmen Cornwall Lift-Off is a silent army of hundreds of volunteers – and they are always looking for more help.
"Volunteers make Lift-Off what it is," said Festival Co-Chair, Jason Jesmer. "It simply wouldn't happen without them".
Last year, more than 350 volunteers lent a hand to the festival, including some younger than 10 and older than 80. Though people of all ages express their interest, organizers are always looking to fill open spots.
"We value all the help we can get," said Mr. Jesmer, who adds that everybody seems to enjoy the work. "There is usually a job that matches people's interests. People are happy to help because they believe in the event and the value it brings to the community."
Help in any area is always appreciated, especially with the festival running longer this year.
"We need individuals that have their driver's license and are good with crewing for the balloon pilots," said Jesmer. "The family zone is another area that can use help…we always have a great turnout in this area. Our tear-down for Sunday is going to be a logistical concern this year due to the added entertainment line-up."
Mr. Jesmer is looking for  volunteers that are organized, proactive and eager to help, and have the flexibility to do a variety of tasks. People can volunteer via a registration page on the Lift-off.ca website.
Though a vast number of volunteers ensure the event's success, Lift-Off would simply not happen without the dedicated and exhausted planning of the board of directors – all volunteers themselves. Made up of 15 individuals from various backgrounds in the community, the board is the cornerstone of the festival.
"The board deserves a lot of credit for working tirelessly to put on a top-notch event for the people of Cornwall and Eastern Ontario," said Mr. Jesmer. "These people have given up countless evenings, weekends and even holidays to organize this event."
With a constantly evolving team, where the age span between the youngest and oldest is 40 years, the biggest obstacle facing the board is succession planning and cross training –just like any business.
Come Sunday evening when the Festival ends, volunteers will enjoy a good night's sleep knowing that thousands enjoyed their hard work. Of course, for some, the rest will be short lived, as planning for the next year's Festival usually starts in August.
Looking to volunteer this year? Click here for more info.
Check out this related article for information about Kinsmen Cornwall Lift-Off 2013, including information on music acts and more!
About Cornwall Lift-Off
Cornwall Lift-Off was founded in 1994 and has since hosted back-to-back Canadian National Hot Air Balloon Championships in 1996 and 1997. The success of the festival has grown considerably since its modest beginnings in 1994. Each year, the festival welcomes approximately 25 hot-air balloon teams, the Homenuik Rides carnival, a spectacular fireworks display, Family Zone, and great local and international musical entertainment. Past entertainers have included Burton Cummings, Marianas Trench, Sloan, Dennis DeYoung of Styx, Tom Cochrane, Colin James, Amanda Marshall, Theory of a Deadman, Finger Eleven, Collective Soul, Loverboy, Trooper, Kim Mitchell, April Wine, Our Lady Peace and Chantal Kreviazuk.