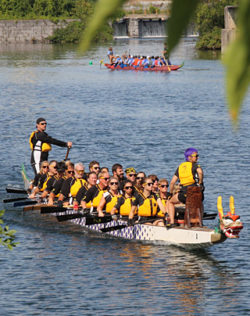 Waterfest Back with a Splash
August 4, 2017
Cornwall Ontario – The eighth annual Cornwall Waterfest returns for another great day at Lock 19.
This highly anticipated day has quickly grown into one of Cornwall's most popular summer events. The festivities take place on August 12th, and admission is completely free. There will be activities for the whole family to enjoy, including live music, artists, food vendors, and more!
All the funds raised at the event each year are donated to local charities.
"We are supporting Hospice Cornwall this year, which makes the event even more worthwhile," says Johanna Murray, one of the event organizers.
Dragon Boat Races
The highlight of Cornwall Waterfest is the famous Dragon Boat Races taking place on the Old Cornwall Canal. One of the world's fastest growing water sports, Dragon Boat Racing has been around for more than two thousand years. A boat will usually contain 20 paddlers, a drummer at the bow, and is guided by a person sitting at the stern.
"Dragon Boat Races is a unique thing to have in any city," says Johanna. "It gives the people the opportunity to participate in a unique activity, check something off their bucket list."
Dragon Boat teams from Cornwall and other areas will be going head to head to determine the best boat on the water. Anyone is able to organize a team and take part in the Boat Races. You can either join a community team, a sport team, sponsor a friend, or even volunteer with the event. There are endless ways to still get involved this year.
"We are offering a community boat this year as well, so individuals that wish to participate can have a team," says Murray.
Last year's winners, the Ottawa Blue Dragons beat local favourites Emard's Lunber by 0.8 seconds. Every year has the gold medal race coming to a photo finish. Some local teams competing this year include Emard Lumber, Nav Canada, and the River Institute.
Waterfest Market and Stage
There will be a stage set up at the canal for local entertainment to put on a show. The entertainment lineup this year includes Subtle, Dean Cousins, If It Blooms, BCDC Dance Group, and Flowdroidz.
Besides the competitive races and great music, there will be an array of local artisans displaying their wares at the market set up on site.
The great vendors setting up shop at this year's Waterfest are:
Campbell Creative
Usborne Books
Scentsy
Cinnamon Swirls
Beautylicious
Mr. Fork and Mrs. Spoon
S & R Creations
Army Cadets
Warm Up Cornwall
Boho Earth Hippie
Those who are interested in being a part of the Dragon Boat races or becoming a volunteer can register online at www.cornwallwaterfest.ca. Information about rules, regulations and equipment are also on the website.
Waterfest will run between 8:00 am and 6:00 pm Saturday, August 12th at Lock 19 of the old Cornwall Canal. It is located near the Soccer Fields just off of Second Street West and Power Dam Drive. The event is free for spectators and everyone is encouraged to bring blankets, chairs and spend the day by the beautiful river.
For more information about Cornwall Waterfest, please visit the following websites:
Categorised in: Community