Cooking and Catering Training Program Open for Intake
May 6, 2021
Cornwall Ontario – The Eastern Ontario Training Board will be offering a Cooking and Catering Course this spring. The course is now open for intake, and is part of an ongoing series of training programs that are offered in partnership with St. Lawrence College, Job Zone d'emploi and GIAG.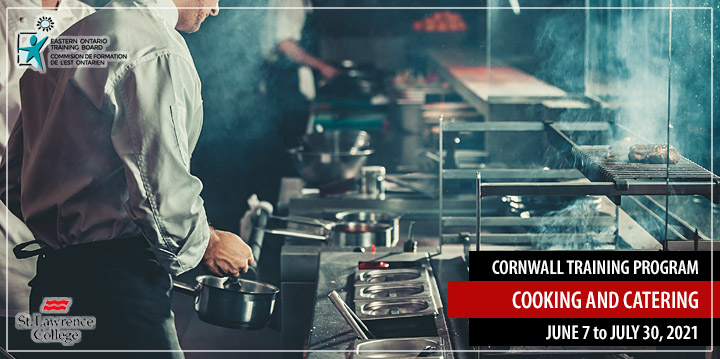 The course will run from June 7, 2021 to July 30, 2021. Details appear below:
Delivery method:  In-person
Length of Training: 8 weeks
Cost: Free for eligible candidates
Training:
Technical Skills: St. Lawrence College will deliver a hands-on experience for students to gain fundamental knowledge of basic kitchen practices in order to help them become confident and competent in the workplace. Graduates of the training can secure employment in restaurants, hotel and institutional food services (ex. Colleges, long-term care facilities). Students will learn proper use and maintenance of knives, hand tools and commercial kitchen equipment, the fundamentals of classical and modern cooking and menu planning and cost analyses.
Certifications: Safe Food Handling, Smart Serve, CPR+AED, WHMIS and Health & Safety
Pre-employment and soft skills: Teamwork, communication skills, self-awareness, workplace success, resume writing, job search techniques, interview preparation
Employment: EOTB will assist participants in securing employment within the food industry. Employers will receive a wage subsidy of approximately $10/hr for up to 35 hours per week for
12 weeks. Ongoing coaching is provided to assist with transition to employment.
Financial assistance: EOTB will purchase training on behalf of eligible candidates. All participants will receive an apron, hat, textbook, binder & supplies, hairnets and cut gloves. Financial assistance may be available for items such as daycare and work attire.
Basic eligibility criteria:
Resident of Cornwall, SDG-PR and Akwesasne (Ontario)
Unemployed or under-employed
Not in full-time education or training
Legally entitled to work in Canada
AND
Experience a self-identified disability and not be in receipt of EI
OR
A youth, 30 years of age or younger, experiencing difficulty getting or keeping a job
How to apply: Interested candidates should call Job Zone d'emploi at 613-933-9675 or GIAG at 613-525-1522
About the Eastern Ontario Training Board
The Eastern Ontario Training Board (EOTB) plays a leading role in labour force development in the Cornwall region. It undertakes a number of projects throughout the year, and publishes the TOP report on local labour force issues. More info can be found online: