Cornwall and Area Job Fair to Be Largest Ever
March 17, 2023
Cornwall Ontario – Over 60 employers will be promoting hundreds of available employment opportunities at the Cornwall and Area Job Fair – making it the largest ever job fair in Cornwall.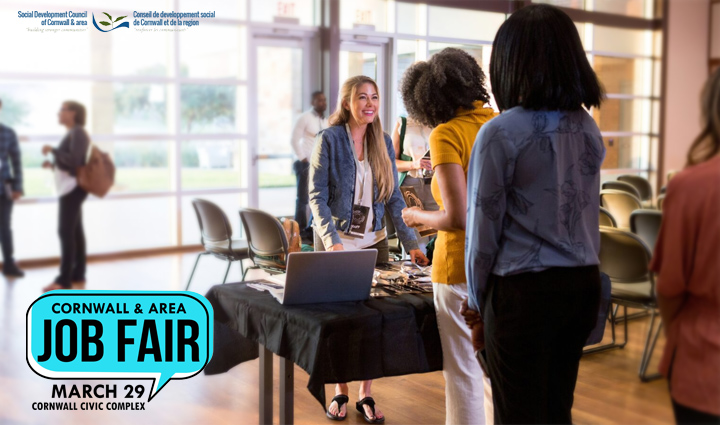 "If you are looking for a job or a considering a career change, this is a must-attend event," says Carilyne Hébert, Executive Director of the Social Development Council of Cornwall and Area. "Job-seekers will have the change to meet recruiters from companies from a wide range of sectors."
Over 500 jobs will be up for grabs at the Job Fair, ranging from entry level to skilled trades to senior management positions. Over 150 student positions are also available.
The Job Fair will be held at the Cornwall Civic Complex and is free and open to anyone. The event is expected to attract job-seekers from throughout the region, including from Montreal, Ottawa and Kingston.
The Job Fair will feature two sessions to allow people with different schedules attend the event:
 Wednesday March 29 at the Cornwall Civic Complex
First Session: 10:00 am to 1:00 pm
Second Session: 3:00 pm to 6:00 pm
Click here to see a teaser video for the Job Fair. Click here for more info on the Job Fair.
Prep Sessions
Job Zone d'emploi will be holding prep sessions for both employers and job seekers the week prior to the Job Fair. Click on the link below for more info:
Community Connections
Many of the region's top employers will be joined by over eighteen (18) service agencies to provide an added feature at this year's event.
Available Jobs in Cornwall and Area
Job seekers will be able to speak directly to recruiters at the Job Fair, and personally hand over their résumés. A list of available jobs in Cornwall can be found on the ChooseCornwall.ca Job Board.
Employers at the Job Fair
Biscuits Leclerc
Clean International Inc.
Walmart Logistics
United Counties of Stormont, Dundas and Glengarry
City of Cornwall
Intertape Polymer Group
Catholic District School Board of Eastern Ontario
Plan A Glengarry
Lactalis Canada
St. Joseph's Continuing Care Centre
Minimax Express Transportation
ACFO SDG
Les Amis du CERF
Carefor Eastern Counties
Alexandria Moulding
Drake International
Pride Group Logistics
OCAPDD/Open Hands
Sabic Petrochemicals Canada
Sun Life
Hood Packaging
Revera
McDonald's Restaurants
Oscar Ladouceur & Son
Cornwall Police Service
St. Lawrence Valley Animal Hospital
Maxville Manor
Cornwall Community Hospital
Maison Interlude House
Roy Florist
GCQ Canada
DEV Hotel and Conference Centre
Chartwell McConnell and Chartwell Chateau Cornwall
Bayshore Home Care Solutions
RCMP
LVFencing / Villeneuve Creations
Aevitas Inc
Clean All Environmental Services
ParaMed Home Health Care
Igloo Building Supplies Group
Hôpital Glengarry Memorial Hospital
Canada Revenue Agency
Bell
MacEwen Petroleum Inc.
Canadian Armed Forces
Glengarry Inter-Agency Group
Bell Technical Solutions
Manderley Turf Products Inc.
Community Living Dundas County
Canada Continental Hotel
CSDCEO
CBSA-Cornwall
Access Healthcare Services
Witron
Elite Development Cornwall
Southbridge Care Homes
Caisse Desjardins Ontario Credit Union
Ministry of the Attorney General – Court Services Division
Children's Services – City of Cornwall
Hampton Inn By Hilton
Bayshore Home Health
True REST Float Spa
SigmaPoint
Olymel
Service Providers at the Job Fair
Eastern Ontario Training Board
Community Integration through Co-operative Education
Job Zone d'emploi
Contact North
Centre York Centre
St. Lawrence College
Clinique Juridique Roy McMurtry
Le Centre Moi j'apprends et CSDCEO (Conseil scolaire catholique)
ACCFutures
Cornwall Student Union
CESOC
Tri-County Literacy Council
Cornwall Business Enterprise Centre
Choose Cornwall Job Board
Upper Canada District School Board STEP
GIAG Employment Services
Ministry of Labour, Training and Skills Development
Kozroots Community Empowerment Projects
Video
Check out the short trailer video for the 2023 Job Fair:
More Information
This event is being organized by the Social Development Council of Cornwall and Area – Employability Network. This is the ninth consecutive year that a Job Fair has been held in Cornwall. For more information, visit:
About the Social Development Council
The Social Development Council of Cornwall and Area was formed in 2006 to build and strengthen local communities. Its mission focuses on the social and economic impact on individuals, families and communities at large.