Cornwall and SDG receive funding to promote winter experiences
December 17, 2020
Cornwall Ontario – Cornwall Tourism and Tourism SDG have received funding from the Regional Tourism Organization for South Eastern Ontario (RTO 9) to help promote unique winter experiences in the region.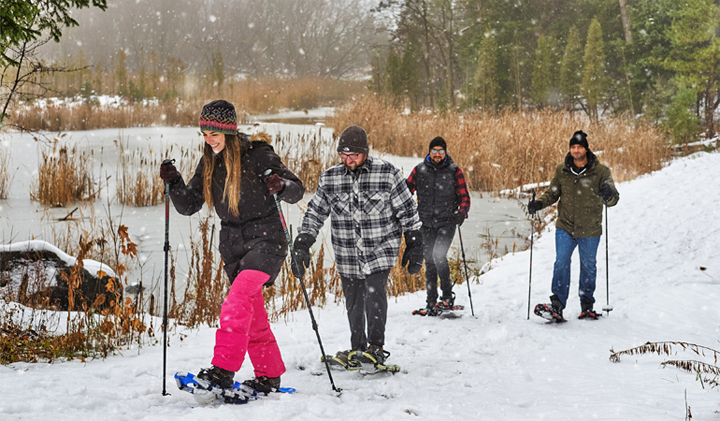 The local tourism offices will receive $10,500 in support from the RTO 9 Partnership Fund program for a $15,000 joint campaign to promote winter experiences in Cornwall and SDG Counties this coming season. Cornwall Tourism and Tourism SDG are one of 8 recipients in this latest intake of the Partnership Fund program.
"We are grateful to RTO 9 for the support through the Partnership Fund program. This will allow us to leverage our own funds and increase our destination marketing efforts during the upcoming winter season," said Kevin Lajoie, Tourism Officer with the City of Cornwall. "We plan to showcase the region as a safe and ideal winter destination by promoting the diverse winter activities and experiences that are available."
In addition to the many outdoor adventure opportunities available – including fat biking, snowshoeing, skating, ice fishing and more – officials will also highlight the tremendous food, drink and cultural amenities that exist in the region.
"These campaigns will help to reinforce the importance of tourism as a year-round economic driver in our community," said Karina Belanger, Tourism Coordinator for the United Counties of Stormont, Dundas & Glengarry. "The ultimate goal is to encourage patronage and visitation at local tourism businesses and attractions while also being respectful and mindful of public health guidelines."
For the past 7 years, the Ministry of Heritage, Sport, Tourism, and Culture Industries has provided RTO 9 with Partnership Funding that is used to leverage a variety of projects that support the growth of tourism within the region. Projects vary in scope from events to marketing initiatives to product development and training.
"I look forward to working with our tourism partners to see these great projects succeed,"  said Bonnie Ruddock, Executive Director, RTO 9.
About RTO 9
RTO 9 is a regional tourism organization established in 2010 that is funded by the Ontario Ministry of Heritage, Sport, Tourism, and Culture Industries. RTO 9 actively promotes tourism for the South Eastern Ontario region and works to support and grow the tourism industry through marketing, product development, investment attraction, and workforce development initiatives. The regions of South Eastern Ontario are 1000 Islands Gananoque, Bay of Quinte, Brockville, Cornwall and Stormont, Dundas & Glengarry Counties, Frontenac County, Kingston, Lennox and Addington, Prince Edward County, and the Rideau Canal.
For more information about RTO 9, please visit tourismtalk.ca.
About Cornwall Tourism
Cornwall Tourism is responsible for marketing Cornwall to attract new visitors. The office maintains a visitor information centre year-round at the Civic Complex. CornwallTourism.com is an online resource that provides current tourism news as well as a comprehensive calendar of events.
You can follow Cornwall Tourism online: