Cornwall Applauds Local Achievements with Business Excellence Awards
June 24, 2022
Cornwall Ontario  – Community and business leaders are celebrating local excellence with the announcement of the the BEA+ 2021 Awards.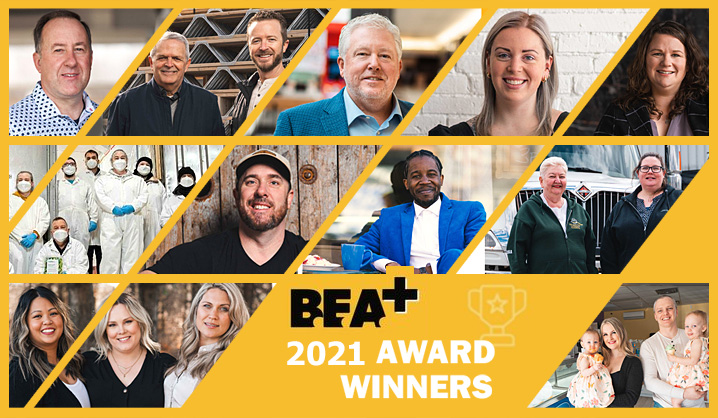 The Cornwall and Area Chamber of Commerce celebrates businesses and individuals in Cornwall, SDG, and Akwesasne annually through the Business Excellence Awards presentations, including the Citizen of the Year Award.
"Congratulations to this years BEA+ winners," says Gina Scandrett, President of the Cornwall and Area Chamber of Commerce. "As a business community we are proud to celebrate with those that have thrived and excelled in 2021. Our thanks to all our magazine and event partners, along with our sponsors, who together made the BEA+ possible and congratulations to all the winners."
The following companies, organizations and individuals were recognized this year:
Entrepreneur of the Year: Ian Bentley
Community Impact Award: Tri-County Literacy
Tourism Excellence: Countryside Adventures
Large Business of the Year: Cornwall Roof Truss
Small Business of the Year: Cowan's Dairy
Environmental Impact Award: dg vintage
Inclusion & Diversity Award: Fieldless Farms
Above & Beyond Award: Friends with Hearts
Economic Impact Award: Weaving Baskets Group
Lifetime Achievement Award: Allan Wilson
President's Award: Juliette Labossiere
2021 Citizen of the Year Award: Lee Theodore
This year, the gala ceremony returned and was held at the Cornwall Ramada with an estimated 150 people in attendance. Returning for a second year is the BEA+ magazine, a special 36-page full colour print publication celebrating the award winners.
"The 2021 BEA+ magazine really showcased our award winners, and the intimate award event at the Ramada was a wonderful opportunity to get together and celebrate our business community," says Angela Bero, Manager of the Cornwall and Area Chamber of Commerce. "This year's award recipients are all exceptionally well deserving of this recognition, and their stories and beautifully told in this year's BEA+ magazine."
BEA+ Magazine
The BEA+ magazine profiles each winner with an indepth story and photos. The publication is available at the Cornwall Chamber of Commerce office on Second Street, and will also be available at a number of locations in Cornwall,. SDG, and Akwesasne including the Cornwall Economic Development office at the Civic Complex. A digital copy will also be available online.
About the Chamber of Commerce
The Cornwall and Area Chamber of Commerce is the unified voice of the region's business community speaking towards growth, leadership and innovation. With direction from the elected board of directors, the Chamber looks to continuously progress the community through political advocacy, knowledge-based development and innovative opportunities.
The Chamber has over 500 members.  For more information, please click on the following links: