Cornwall Celebrates Franco-Ontario Day
September 25, 2023
Cornwall Ontario – Cornwall's French spirit is on display today.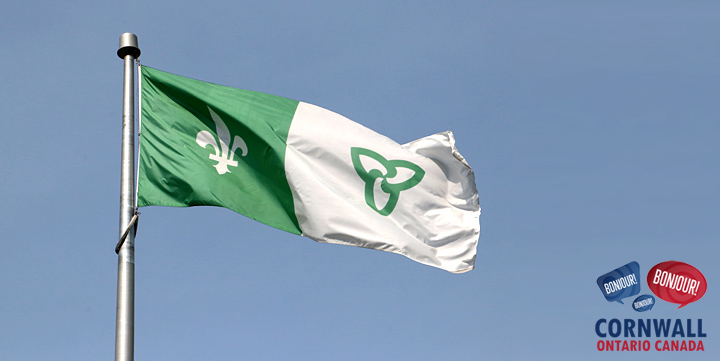 September 25 is Franco-Ontarian Day – a day to celebrate Ontario's rich and diverse Francophone community, its history, and its essential role in the growth and prosperity of the province.
"Today marks a very important day for thousands across the province of Ontario," says Mathieu Fleury, CAO with the City of Cornwall. "Franco-Ontarian Day is more than just a day — it's a commemoration by the government of Ontario, since 2010, for all the hard work of many leaders to protect the francophone language in minority environments. In Cornwall, we have a thriving francophone and Francophile community who continues to shine.  As a City, we recognize the importance to serve residents in one of our two official languages, we strive to support employees who want to learn and encourage employees to celebrate our history and diversity."
Cornwall's Francophone Heritage
Cornwall is one of Ontario's most bilingual cities. Almost half of the population (43.26%) can converse in both English and French. Francophones represent 25.4% of the City's population, compared to 15.4% for Eastern Ontario and 4.8% for Ontario as a whole.
The first official record of a francophone population in Cornwall dates to 1829, showing that 74 out of 812 Cornwallites were of French origin. Twenty years later, the census recorded that the number had jumped to 967.  Today, Cornwall's francophone community enjoys a strong presence in the Cornwall.
Funding Announced
Earlier today, Ontario government announced the recipients of the 2023-2024 Francophone Community Grants Program (FCGP). Through this $2-million program, Ontario supports community organizations and small businesses that contribute to the vitality and well-being of the province's Francophone communities. Two local organizations received funding:
Association canadienne-française de l'Ontario – Stormont, Dundas et Glengarry ($50,000)

Francophonie in the Spotlight: Celebrating Culture and Diversity
"Francophonie in the Spotlight" proposes several monthly activities to more than 700 local residents who will celebrate the diversity of the French language and culture in the Eastern Counties. Community partnerships will also be encouraged through arts, culture, folklore and heritage programmes.

Carefor Health and Community Services ($34,759)

Recruitment of 15 Bilingual Francophone PSWs
The recruitment of 15 bilingual Francophone PSWs will enable Carefor to better meet the vital care needs of French speaking clients and community members — primarily seniors, person with physical limitations, and cognitive impairments — in the Eastern Counties region.
"Francophone businesses and community organizations are the driving force behind initiatives that fuel the growth, prosperity and well-being of our thriving Francophone community," said Caroline Mulroney, Minister of Francophone Affairs.
In recent years, the Francophone Community Grants Program has helped non-profit organizations and small businesses that serve francophone communities and specialize in employment supports and enhancing of the francophone economy. The program has also supported cultural organizations, cultural events, as well as the development of French-language services, particularly in health and social services, all of which facilitate the promotion of francophone culture and diversity, as well as training and integration programs for newcomers.