Cornwall Chamber Launches Shop Local Christmas Campaign 
December 11, 2020
Cornwall Ontario – The Cornwall and Area Chamber of Commerce has teamed up with the Questionable Comedians to launch a Shop Local Christmas Campaign for the 2020 Christmas shopping season.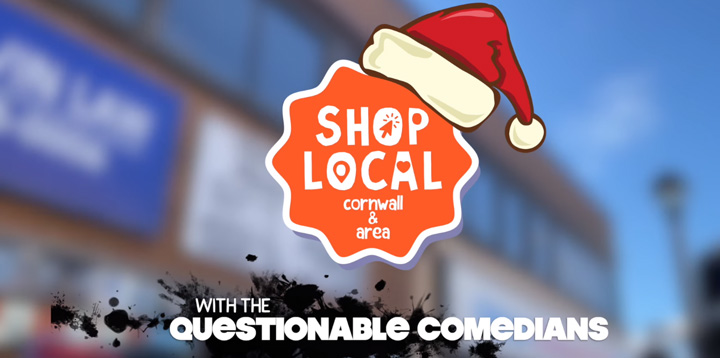 In a series of videos, the Questionable Comedians visit different stores to explore the available merchandise on their venture to shop for well-known community figures in the area. They will be shopping for Madame Mayor Bernadette Clement, MP Eric Duncan, MPP Jim McDonell, and Grand Chief Abram Benedict in a Secret-Santa gift-giving format.
"We want to show everyone in Cornwall, Akwesasne, and Stormont, Dundas, and Glengarry, how rewarding, fun, and practical it can be to shop local," says Greg Pietersma, Executive Director of the Cornwall and Area Chamber of Commerce. "There is an abundance of great merchants and services in this area, and patrons don't need to look far to shop for everyone on their Christmas list."
The Questionable Comedians are Dan Allaire, Michael Baird, Jamie Carr and Simon McLinden.
You can watch the first video  on the Cornwall & Area Chamber of Commerce Facebook page.
For your chance to win all of the presents purchased for the video series, "like" any video on the Cornwall Chamber of Commerce Facebook page. Each video liked will count as one entry into the final draw, which will be held on January 02, 2021.
Please visit the website https://cornwallchamber.com/ for full contest rules.
About the Chamber of Commerce
The Cornwall and Area Chamber of Commerce is the unified voice of the region's business community speaking towards growth, leadership and innovation. With direction from the elected board of directors, the Chamber looks to continuously progress the community through political advocacy, knowledge-based development and innovative opportunities.
The Chamber has close to 700 members.  For more information, please click on the following links: