Cornwall Chosen for Regional Immigration Pilot
December 19, 2019
Cornwall Ontario – Businesses in Cornwall and the surrounding region have a new tool to help attract and retain skilled workers, thanks to a new Regional Immigration Pilot program.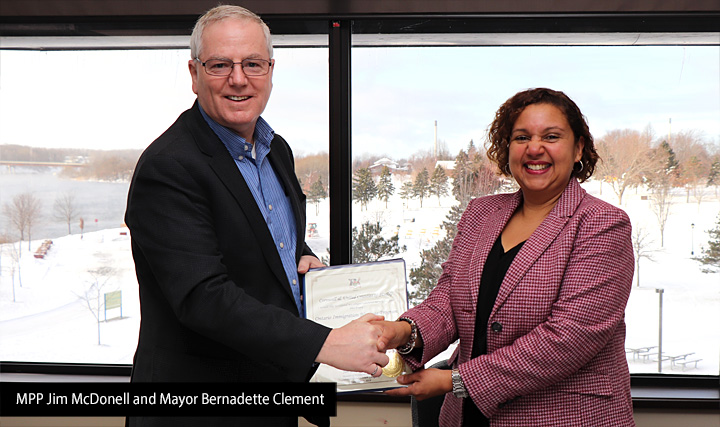 The Regional Immigration Pilot — which is part of the Ontario Immigrant Nominee Program (OINP) — will be an opportunity for Cornwall businesses to fill talent gaps and support economic growth and a pathway for skilled foreign workers to become permanent residents. Cornwall is one of three Ontario communities selected for the project, along with Belleville/Quinte West and Chatham-Kent.
"Our government is committed to growing economic immigration and connecting job creators in small and rural communities with the talent they need to expand and succeed," said Vic Fedeli, Minister of Economic Development, Job Creation and Trade. "Through the Regional Immigration Pilot, businesses in Belleville/Quinte West, Chatham-Kent and Cornwall now have the ability to meet their employment requirements and create even more good jobs."
The announcement of the pilot project was made this morning by Jim McDonell, MPP for Stormont-Dundas-South Glengarry.
"By welcoming newcomers to Cornwall, we are helping our job-creators grow their businesses and boost our local economy," said MPP McDonell. " "Through the Regional Immigration Pilot,  and with the infrastructure in place to assist newcomers in getting settled, we will help solve skilled labour challenges for our Francophone and Anglophone communities."
While developing the pilot, chose the pilot communities based on their specific skilled labour challenges, the ability to help newcomers get settled and interest from community stakeholders.
"Cornwall companies provided input as this pilot project was being developed and clearly demonstrated that the demand for workers in specific sectors in Cornwall is outstripping the local supply," said Mayor Bernadette Clement. "We welcome this announcement as a positive step in helping newcomers contribute to growing our economy."
The Eastern Ontario Training Board will be the lead agency for the Cornwall pilot, and outcomes will help inform further efforts to regionalize economic immigration in Ontario.
"We look forward to working with community organizations and stakeholders on this project," says Martha Woods, Executive Director of the Eastern Ontario Training Board. "This initiative will allow for 50 skilled foreign workers, along with their families, to become permanent residents and will help solve skilled labour challenges, encourage business growth and help boost our local economy."
The Regional Pilot works within the existing Employer Job Offer streams of the OINP to assess candidates. If an applicant qualifies for any of the OINP Employer Job Offer streams and has a full-time permanent job offer from an employer located within one of the pilot communities, then they may qualify for the pilot. Communities are not responsible for endorsing candidates. The pilot will offer a dedicated intake avenue for applicants applying under the Regional Immigration Pilot.
As part of the pilot, the OINP will also be working with municipalities and community partners to increase awareness of the program and encourage uptake among local employers. The OINP is also offering employers within pilot communities access to the OINP business services team to help answer any questions they might have about the program and accessing foreign talent to meet their local needs.
Intake for applications under the Regional Immigration Pilot is not yet open. Please monitor the OINP website for more information about intake and applications in early 2020.
Additional information is also available via this info sheet:
About the Ontario Immigration Nominee Program
The Ontario Immigrant Nominee Program (OINP) is the province's economic immigration program. It works in partnership with the Government of Canada through Immigration, Refugees and Citizenship Canada (IRCC). Foreign workers, international students and others with the right skills, experience and education apply to the OINP for a nomination. The OINP recognizes and nominates people for permanent residence who have the skills and experience the Ontario economy needs, and the Government of Canada makes the final decision to approve applications for permanent residence.
QUICK FACTS
The OINP will allocate approximately 150 nominations for the pilot through the OINP Employer Job Offer category that will be reserved for applicants with job offers in the pilot communities.
The OINP's Employer Job Offer Category allows Ontario businesses to fill labour needs in professional, managerial and in-demand occupations with foreign workers and international students to fill their labour gaps. Recruited workers must have a job offer and may apply from within or outside of Canada.
The government will also be adding new manufacturing National Occupational Classification (NOC) codes to the In-Demand Skills Stream, which will take effect in the 2020 nomination year.
Immigration is a shared jurisdiction in Canada between the federal government and the provinces and territories. Ontario has the largest nominee program in the country with an allocation of 6,650 in 2019, plus an additional 250 nominations specifically for National Occupational Classification level C jobs that usually require high school and/or job-specific training.
Ontario asked the federal government for an increase to its nomination allocation in 2019 and expects to begin discussions for 2020 nomination allocation soon to ensure Ontario can meet demand for the program.