Cornwall Community Hospital Opens Family Caregiver Centre
October 31, 2019
Cornwall Ontario – Many guests from the local community and beyond were at the Cornwall Community Hospital this week to celebrate the opening of its newest addition: the Changing CARE: Embrace Family Caregiver Centre.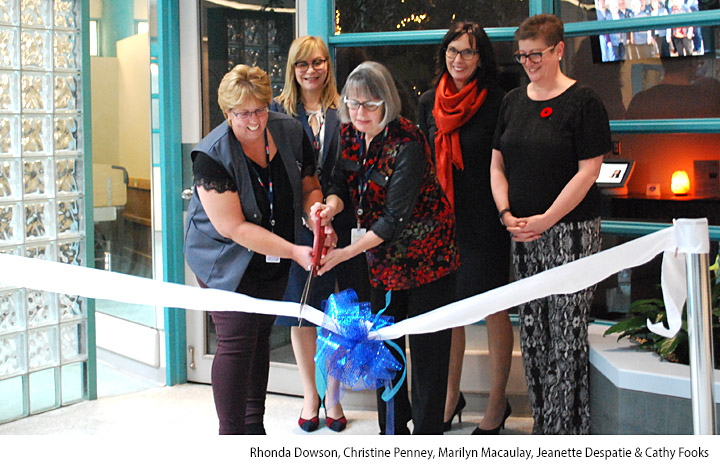 It is the first support service of its kind in the Eastern Champlain region of Ontario.
Family caregivers provide critical and ongoing care to a loved one, without payment. They could be a spouse, partner, family member, friend, neighbour or colleague. The Family Caregiver Centre is now available to help with their caregiver journey, providing access to a lounge, kitchenette and family meeting room.
"We recognize how important family caregiver support is to the health and wellbeing of members of our community; we are proud to provide a space for those caring others," explains Jeanette Despatie, President and CEO of Cornwall Community Hospital.
In addition to the physical space, caregivers will be able to visit the centre to pick up printed information, request an educational book on loan, and access the www.embracecaregivers.com website. This site provides information that is relevant to family caregivers who provide support to people living with an addiction and mental health problem. Other resources include information for caregivers supporting those affected by cancer, dementia, diabetes, heart & stroke, multiple sclerosis, palliative care and Parkinson's. More resource information will be added to the centre as it becomes available.
The opening of the new centre is a significant outcome of the Changing CARE: Embrace project, which aims to improve the experience of family caregivers in the addiction and mental health system across Cornwall, Stormont, Dundas, Glengarry and Akwesasne.
Changing CARE: Embrace is an initiative of Cornwall Community Hospital and the Cornwall & District Family Support Group and is one of The Change Foundation's four Changing CARE projects across Ontario, each designed to improve the local caregiver experience with the healthcare system in its own way.
"Embrace's goal was to make a difference in people's lives by supporting, strengthening and building resiliency among caregivers who are caring for those with addiction and mental health problems," says Cathy Fooks, President and CEO of The Change Foundation. "The new Family Caregiver Centre is just another example of the change they're making in their community, and, most importantly, it's being done in a sustainable way that has involved caregivers and the community every step of the way."
The new Family Caregiver Centre is conveniently located on the main floor of Cornwall Community Hospital at 840 McConnell Avenue. The Centre will be open to family caregivers daily, Monday to Sunday, between the hours of 6:00 am and 8:00 pm. Trained volunteers who have lived experience as family caregivers themselves will be available to provide one-on one support to visitors Monday to Friday from 1:00 to 4:00 pm.
About the Cornwall Community Hospital
The Cornwall Community Hospital has historical roots that reach back beyond Confederation to 1897. Cornwall Community Hospital was incorporated in 2004 with the amalgamation of the Cornwall General Hospital and the Hotel Dieu Hospital, both with over 100 years of health care service to Cornwall and surrounding area. With the completion of a major redevelopment project in 2014, and the construction the Addiction and Mental Health Centre at the end of 2016, the hospital consolidated all acute care and community based services on the McConnell avenue site. Having everything on one campus positions the hospital well to serve its community for many years to come.