Cornwall Community Hospital Receives $20,000 Grant
January 22, 2019
Cornwall, Ontario – Cornwall Community Hospital (CCH) has received a $20,000 grant from the Bell Let's Talk Community Fund to further develop a community pathway for infant and toddler mental health.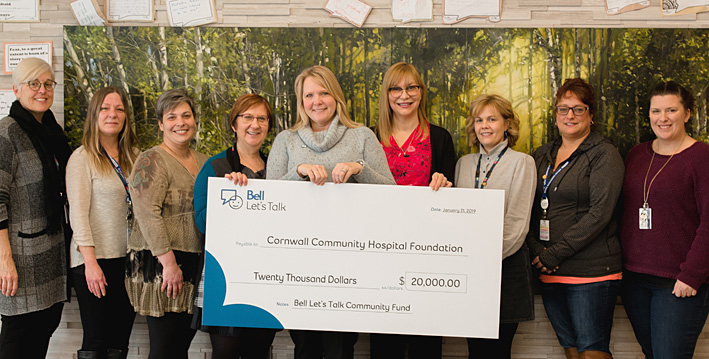 "The Bell Let's Talk grant will be used to provide CCH mental health and addiction staff training in the area of perinatal postpartum depression, as well as promote awareness of services that are available to caregivers," said Deena Shorkey, Director, Child and Youth Mental Health Services at CCH's Community Addition and Mental Health Centre. "The ultimate goal is to ensure that both caregivers and professionals have access to the right services at the right time. We would like to increase awareness of the importance of attachment issues within the first year of life through the development of a collaborative approach across services such as primary care, mental health, addictions, child welfare and the health unit as an example."
Secure attachment has been associated with better outcomes in areas such as independence, self-image, empathy and relationships with others in toddlerhood, school-age and adolescence which in turn are investments in the well-being of infants and toddlers.
"Bell Let's Talk is pleased to support Cornwall Community Hospital's Child and Youth Mental Health Services to improve mental health care for young children in Cornwall," said Mary Deacon, Chair of Bell Let's Talk. "Having doubled the annual Bell Let's Talk Community Fund to $2 million in 2018, we are supporting some 120 organizations in communities across Canada, like Cornwall Community Hospital, that are making a difference for those affected by mental health issues."
The ultimate goal of the new pathway is to promote infant and toddler well-being from the beginning, which in turn can lead to improved mental health outcomes.
To celebrate Bell Let's Talk Day on January 30th, the Community Addiction and Mental Health Centre is hosting an open house, targeted at youth. The event includes a photo booth, games and prizes.
"We want to showcase our new building as an inviting space, ensuring that youth are comfortable in reaching out should they need help some day," said Ms. Shorkey.
Bell Let's Talk Day is January 30
The Bell Let's Talk initiative promotes Canadian mental health with national awareness and anti-stigma campaigns like Bell Let's Talk Day on January 30, and significant Bell funding of community care and access, research and workplace leadership initiatives. On Bell Let's Talk Day, Bell will donate 5 cents to Canadian mental health programs for each of the following interactions, at no extra cost to participants:
Talk: Every mobile call and every long distance call made by Bell wireless and phone customers
Text: Every text message sent by Bell wireless customers
Twitter: Every tweet using #BellLetsTalk, featuring the Bell Let's Talk emoji and Bell Let's Talk Day video view at Twitter.com/Bell_LetsTalk
Facebook: Every view of the Bell Let's Talk Day video at Facebook.com/BellLetsTalk and use of the Bell Let's Talk frame
Instagram: Every Bell Let's Talk Day video view at Instagram.com/bell_letstalk
Snapchat: Every use of the Bell Let's Talk filter and video view
To learn more, please visit Bell.ca/LetsTalk.
About Cornwall Community Hospital
Cornwall Community Hospital was incorporated in 2004 with the amalgamation of the Cornwall General Hospital and the acute care services of the Hotel Dieu Hospital, both with over 100 years of health care service to Cornwall and surrounding area. With the completion of a major redevelopment project in 2014, and the construction the Addiction and Mental Health Centre at the end of 2016, the hospital consolidated all acute care and community based services on their McConnell avenue site. Having everything on one campus positions the hospital well to serve its community for many years to come.