Cornwall Community Hospital Recognized for Choosing Wisely
May 15, 2019
Cornwall Ontario – It's another first for the Cornwall Community Hospital.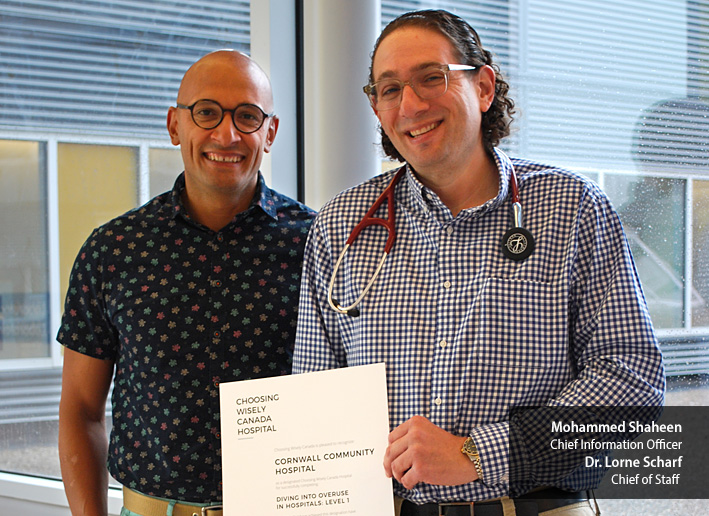 Cornwall Hospital was recently recognized as the first hospital in Canada for receiving a "Level 1" designation by Choosing Wisely Canada. This designation allows the hospital resources to be reallocated where they are needed most; reducing wait and processing times as well as improving care by reducing the potential for adverse events.
Unnecessary testing and treatment is a pervasive problem in health care, and is present in virtually every hospital, department and clinic. This not only wastes hospital resources, but increases patient wait times and possibly can lead to patient harm. Choosing Wisely Canada inspires and engages health care professionals to take leadership in reducing unnecessary tests, treatments and procedures, and enables them with simple tools and resources, including over 300 recommendations regarding tests, treatments and procedures that clinicians and patients should question.
"It makes sense for us to participate in such an initiative, to ensure the best use of our resources and is another element of our commitment to patient safety," explains Lorne Scharf, Chief of Staff at the Cornwall Hospital.
Although clinicians ultimately make decisions about which tests and treatments to order, many of these decisions can often be influenced by existing hospital systems or processes and can nudge clinicians toward ordering tests and treatments that do not reflect evidence-based guidelines and practices. This can expose patients to avoidable harm, lengthen wait times, and consume precious hospital resources.
About Choosing Wisely Canada
Choosing Wisely Canada is the national voice for reducing unnecessary tests and treatments in health care and was launched on April 2 2014. It is organized by a small team from the University of Toronto, Canadian Medical Association and St. Michael's Hospital (Toronto) and is part of a global movement that now spans 20 countries across 5 continents. It does so by partnering with professional societies representing different clinical specialties (e.g., cardiology, family medicine, nursing) to identify tests and treatments commonly used in each specialty that are not supported by evidence and could expose patients to harm. Choosing Wisely Canada also partners with a wide range of medical associations, health system as well as patient organizations to help put these recommendations into practice.
About the Cornwall Community Hospital
The Cornwall Community Hospital has historical roots that reach back beyond Confederation to 1897. Cornwall Community Hospital was incorporated in 2004 with the amalgamation of the Cornwall General Hospital and the Hotel Dieu Hospital, both with over 100 years of health care service to Cornwall and surrounding area. With the completion of a major redevelopment project in 2014, and the construction the Addiction and Mental Health Centre at the end of 2016, the hospital consolidated all acute care and community based services on the McConnell avenue site. Having everything on one campus positions the hospital well to serve its community for many years to come.