Cornwall Cracks Global Index for Startups
June 14, 2022
Cornwall Ontario – Cornwall has cracked an index of communities around the world ranked as to the strength of their business ecosystems for startups.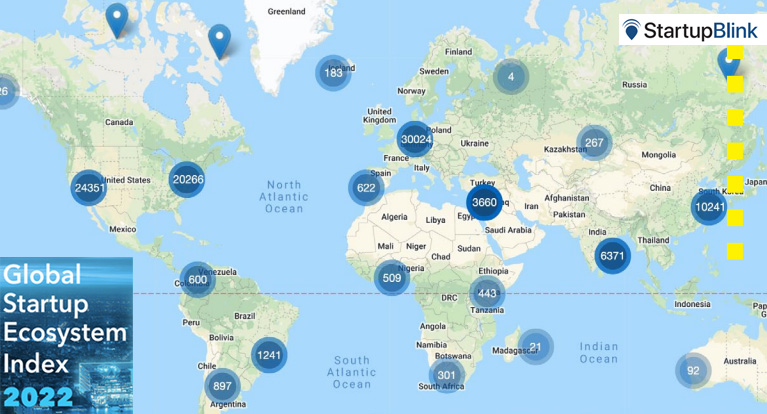 The Global Startup Ecosystem Index by StartupBlink has been updated annually since 2017 and is the world's most comprehensive startup ecosystem ranking of 1000 cities and 100 countries. For the first time ever, Cornwall is ranked amongst the top 1000.
"It is nice to see that Cornwall is included on the Index," says Mayor Glen Grant. "Our economy is growing, and much of that growth is due to the vision and leadership of local entrepreneurs. We continue to welcome new startups to Cornwall and support them as they build out their companies."
Cornwall is ranked 28th in Canada, 247th in North America and 807th worldwide. Cornwall is also ranked 188th in the world for Foodtech startups.
"Cornwall combines a strategic location along with a great mix of business and lifestyle," says Eric Bergeron, co-founder of Cultivatd, an agtech startup based in Cornwall. "Over the last few years the city has taken steps to improve the support and infrastructure for entrepreneurs to thrive and you're going to see more and more founders moving to cities like Cornwall."
Cornwall is home to a number of successful startups – many of them competing effectively on a global basis, such as ZipGrow, Fieldless Farms and Cultivatd. Local entrepreneurs are supported through the Cornwall Business Enterprise Centre, which administers the Starter Company PLUS program, as well as other key community stakeholders such as ACCFutures, St. Lawrence College and the Chamber of Commerce. The addition of coworking hubs at The Co. Lab and WGB Hub are also welcome developments.
In terms of nations, Canada is ranked 4th globally, showing strong and solid performance. Analysts expect Canada could soon threaten Israel's position as the world's 3rd best ecosystem.
Among the number of notable debuts welcomed in the 2022 Index include Cornwall, Guelph, and Saint Catharines. With these new additions, Canada now has 41 cities in the top 1000, versus only 30 ranked cities in 2021, indicating the strength and variety of the Canadian startup scene.
About StartupBlink and the Global Startup Ecosystem Index
StartupBlink is the world's most comprehensive startup ecosystem map and research center, providing public sector ecosystem developers, innovative organizations, and researchers with the knowledge and tools to map, brand, and grow their startup ecosystems. The Global Startup Ecosystem Index is built using hundreds of thousands of data points processed by an algorithm which takes into account several dozens of parameters. More info can be found online: