Cornwall Curling Club hosts 2022 U15 Curling Challenge Cup
March 25, 2022
Cornwall Ontario – The Ontario Curling Council is pleased to announce that the U15 Challenge Cup is back. The new and exciting competition will be held in Cornwall for the first time over the weekend of March 26-27, 2022.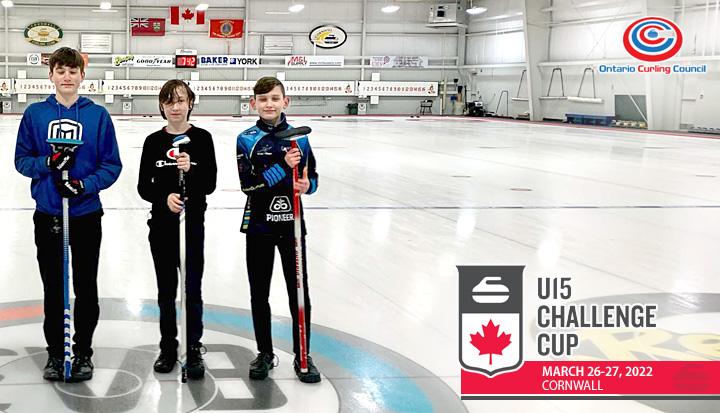 The Cornwall Curling Club was enthusiastic at the opportunity to bring such a competition to the area to help develop their youth program while also showcasing their top-notch facility to the region. The curling competition was developed in conjunction with Curling Canada as part of the Youth Feeder System Project. As such curlers will build fundamental curling skills that they will use throughout their entire curling careers.
"The U15 Challenge Cup works a little differently than traditional bonspiels," shares Pam Lalonde, a local bonspiel representative. "It's designed as a talent identification resource for Curl Ontario so is structured with three types of challenges."
First is a series of triples games and singles challenges. These types of competitions are used because Curling Canada believes no player should be designated into a specific position until
after age 15. Triples will develop more well-rounded curlers who can judge sweeping, call line and strategy and learn to perform with the pressure of throwing last rock, as well as all the shots in all positions. The singles challenges will develop foundational curling shots across the entire sheet of ice with varying weights. The results from the triples and singles will seed each team to then compete in four-on-four games.
Each event is staffed with Ontario Curling Council Representatives who will act as mentors and officials throughout the weekend, and are a great resource if you are looking to learn more about the sport.
The public is encouraged to spectate the challenge and cheer on local youth curlers as well as visiting youth from Ottawa, Kingston, Napanee, Pointe Claire and Rideau. The Challenge will take place from 9:00am – 3:00pm on Saturday and 10:00am-3:00pm on Sunday. The event is free to attend.
For more information on the Cornwall Curling Club and the 2022 U15 Challenge Cup visit www.CornwallCurling.ca