Cornwall Featured in Eastern Ontario Business Journal
October 13, 2021
Cornwall Ontario – Cornwall is once again featured prominently in a special initiative of the Ottawa Business Journal.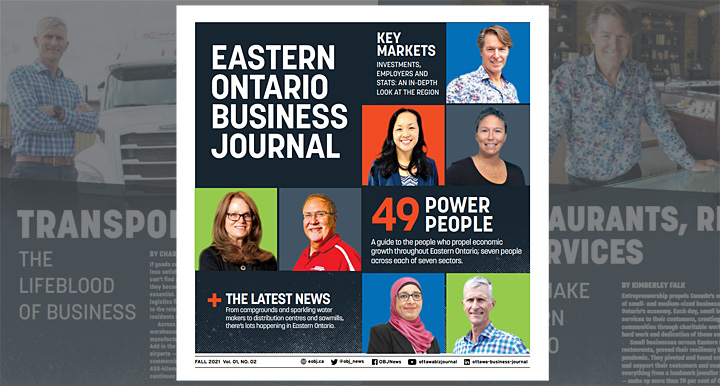 The second issue of Eastern Ontario Business Journal features a number of Cornwall businesses and people in a 48 page publication that was published yesterday. In a first-of-its-kind undertaking, the editorial staff spent weeks canvassing economic development officials and business leaders to create a "people power list" across key sectors of the regional economy — food processing, manufacturing, retail, technology, tourism and transportation — as well as public-sector and non-profit leaders.
"The result is a fascinating overview of people who drive economic growth in Eastern Ontario. These short profiles provide us with a glimpse of the diversity in these sectors and also the growth potential," says Michael Curran, Publisher of the Ottawa Business Journal. "Our continuing objective is to keep our readers informed about remarkable companies, business trends and, hopefully, encourage connections."
The 2021 feature includes prominent Cornwallites such as Yves Poirier of Minimax, Andre Pommier of Pommier Jewellers, Tom Kaneb of SigmaPoint, Bob Gauthier of Seaway Express, Guy Robichaud of Laminacorr and Dany Gagnon of Olymel. Jeanette Despatie of the Cornwall Community Hospital and Glenn Vollebregt from St. Lawrence College were also profiled. Stories on CMP and ZipGrow are also in the edition.
"It is important to recognize the success of Cornwall companies and the impact of local business leaders on the regional economy," says Bob Peters, Division Manager of Cornwall Economic Development. "The Ottawa Business Journal is to be commended for making the effort to profile these stories to its readers."
About the Ottawa Business Journal
The Ottawa Business Journal reaches over 90,000 business and community leaders in Ottawa. For the past two years the publication has carried increasing coverage of major business news from Eastern Ontario.
You can read the second issue of Eastern Ontario Business Journal online here: