Cornwall featured in new Regional Business Publication
February 24, 2020
 Cornwall Ontario – Cornwall is featured prominently in a new regional initiative from the Ottawa Business Journal.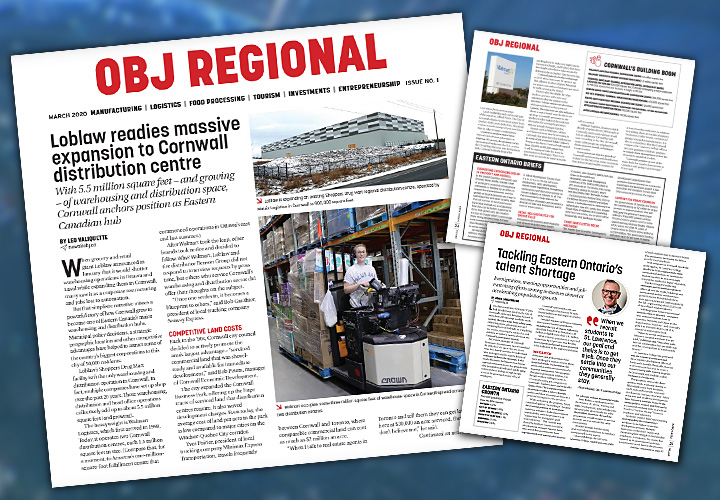 "We are expanding our editorial mandate outside of Ottawa proper and dedicating news coverage to outlying communities with fascinating businesses and real economic development potential," says Michael Curran, Publisher of the Ottawa Business Journal.
In his introduction of the new feature, Mr. Curran describes stopping in to Olymel on his way down to Cornwall to meet local economic development officials.
"It was arguably the best business meeting I've had in years."
OBJ Regional launched on Friday with a 12 page section that includes a number of stories from various communities in Eastern Ontario. The lead story was on activity in Cornwall's logistics sector, which includes recent investments by a number of companies including Loblaw and Walmart. Another major story looks at the talent shortage in Eastern Ontario, and features an interview with Glenn Vollebregt, CEO of St. Lawrence College.
"Investment activity is brisk and employment levels are at an all-time high in Cornwall and Eastern Ontario," says Bob Peters, Division Manager of Cornwall Economic Development. "OBJ Regional will help spread the word and draw attention to some of the more interesting stories in our region."
About OBJ Regional
OBJ Regional will be a regular feature in the print and online edition of the Ottawa Business Journal, which reaches over 90,000 business and community leaders in Ottawa. The effort includes a new section on OBJ.ca, a new dedicated email newsletter, video profiles on YouTube and, later this year, a dedicated annual publication.
You can read the first edition of OBJ Regional in this weeks Ottawa Business Journal, available at various locations in Ottawa, as well as online:
About the Ottawa Business Journal
The Ottawa Business Journal is Ottawa's authoritative source of business news, covering tech, tourism, real estate and other key economic sectors in Canada's capital.