Cornwall Featured in STUFF Magazine
September 12, 2019
Cornwall Ontario – From biofuels to bacon and bomb disposal suits, nuclear science to natural skin care products and non-toxic firefighting gel, Eastern Ontario's manufacturing sector is diverse, dynamic and home to a wealth of career opportunities.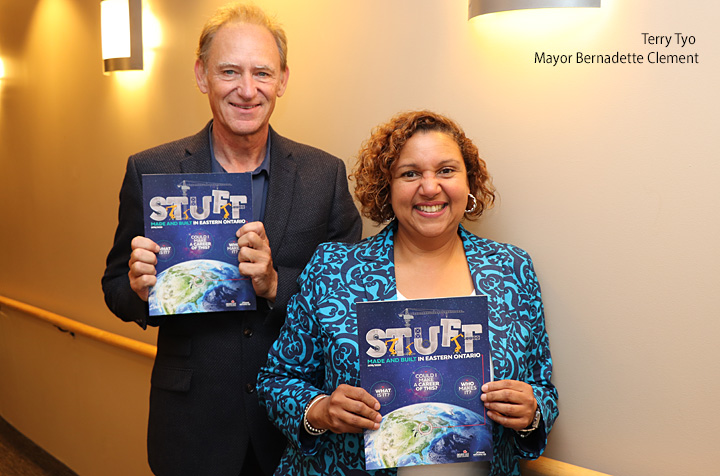 That's the thrust of STUFF, a new interactive digital and print magazine from the publishers of the Ottawa Business Journal. STUFF explores the challenges and opportunities facing manufacturing and skilled trades in Eastern Ontario, from Kingston to Renfrew County, Ottawa to Cornwall.
"Many manufacturers and companies are currently facing a tough challenge in attracting new talent," said Michael Curran, President of Great River Media and publisher of OBJ. "The goal is to convey to a new generation of job seekers, as well as those who may be facing a transition mid-career, that manufacturing and trades do offer cool career opportunities, in communities across Eastern Ontario."
STUFF magazine is a glossy 78 page magazine that provides information on the region, individual communities and a number of companies – including a two page profile on Cornwall, along with profiles on local companies Olymel and SigmaPoint.
"Cornwall offers some amazing employment opportunities for people looking to build successful careers in a community that offers a wonderful quality of life," said Mayor Bernadette Clement.  "It is nice to see STUFF magazine is profiling those opportunities to throughout Eastern Ontario – and beyond."
5,000 copies of STUFF will be distributed directly to high school and college students, as well as workforce centres throughout the region, as well as digitally through a new mobile-responsive website supported by social media and email campaigns.
"Area students, guidance counsellors and parents will use STUFF as a resource for making career decisions, while employers will find it a valuable addition to their
recruitment efforts," said Terry Tyo, Great River Media's chief marketing officer.
Copies of STUFF are available from Cornwall Economic Development via the online Information Request form or can be viewed online.
About Great River Media
Great River Media in an Ottawa-based media and content marketing agency behind the success of brands such as the Ottawa Business Journal. It has
almost 25 years of experience building local brands and creating special media projects aimed at local niches, such as the immensely popular Book of
Lists, Forty Under 40, Best Offices Ottawa and dozens of other titles and brands.