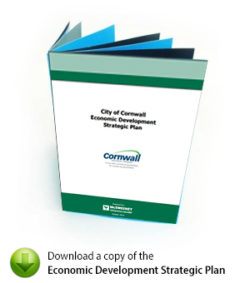 Cornwall has a new Economic Development Strategic Plan
November 23, 2016
Cornwall Ontario – Cornwall has a new Economic Development Strategic Plan.
The 45-page document provides a focus point to guide the community's efforts to attract new investment and realize positive sustainable growth that will result in increased prosperity for residents.
The Economic Development Strategic Plan outlines 8 different strategies:
Attracting and Retaining the Right People
Community Development
Improving Cornwall's Image
Investment Retention and Attraction
Small Business Development
Tourism
Waterfront Development
Workforce and Skills Development
Under each strategy are several action plans. It is anticipated that local organizations will have role to play in executing the action plans.
The Strategic Plan is supported by a 73-page companion Situational Analysis document.
You can download the Strategic Plan and its companion documents by clicking on the following links:
Related documents (reports, maps, brochures etc) are also available on the Resources page, including the popular Year in Review reports.
Background
The consulting firm of McSweeney and Associates was engaged to develop a Economic Development Strategic Plan to determine the best strategies to pursue with regards to enhancing Cornwall's economy.
The work was overseen by the Economic Development Strategic Plan Committee and supported by staff.
The process to gather information was multi-faceted. A complete and thorough review of the local economy was undertaken, in addition to a number of public consultation efforts. These efforts included:
Public survey : 700+ responses
Focus Groups : 100+ participants
In-depth Interviews : 25+ participants
Stakeholder Summit : 75+ participants
In undertaking their responsibilities, the consultants found that people were engaged and generally positive when talking about their community. There was a significant desire to see Cornwall grow and prosper.
It was also affirmed that Cornwall's economy is greatly influenced by trends in manufacturing, logistics and other sectors, as well as by senior government policies and other economic influencers. A review of local demographics suggested a need to attract new families to sustain economic growth.