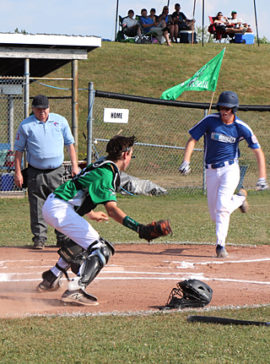 Cornwall Home to Senior Provincial Baseball Tournament
July 5, 2018
Cornwall Ontario – Some promising young baseball prospects from across Ontario are in Cornwall this week for the Senior Provincial Baseball Tournament.
The event kicked off on Tuesday, July 3rd at Legion Park on the Cornwall waterfront and continues all week, with the championship game scheduled for Monday, July 9th.
The host Cornwall Royals – featuring players from across the district – will go up against teams from Orleans, East Nepean, Mississippi and Windsor for provincial honours and a chance to represent Ontario at the nationals in Edmonton beginning July 14th. The winner at the nationals moves on to the Little League World Series, in South Carolina.
The action at Legion Park promises to be entertaining, with an eager group of 15- and 16-year-olds showcasing their skills.
"It's very good quality (baseball)," said Brian Nowry, President of Cornwall District Minor Baseball, the event hosts. "It's some of the top players from our district and you'll see thing from the other teams (at the provincial level."
It's the first time that Cornwall District Minor Baseball hosts the senior provincials.
"We have a great venue here with the diamonds at Legion Park," said Mr. Nowry. "It's a great way to showcase our community to visitors from other parts of Ontario."
Cornwall won their first game of the tournament against Orleans on Wednesday.
Tournament games are free to attend and the complete schedule is as follows:
Tuesday, July 3
1 pm Orleans vs East Nepean
5 pm Windsor vs Mississippi
Wednesday, July 4
1 pm East Nepean vs Windsor
5 pm Cornwall vs Orleans
Thursday, July 5
1 pm Orleans vs Mississippi
5 pm Cornwall vs East Nepean
Friday, July 6
1 pm Mississippi vs Cornwall
5 pm Orleans vs Windsor
Saturday, July 7
1 pm Windsor vs Cornwall
5 pm East Nepean vs Mississippi
Sunday, July 8
4 pm 2nd place vs 3rd place
Monday, July 9 (Final)
4 pm Winner of Sunday vs 1st place