Cornwall Hospital Awarded for Championing Organ and Tissue Donation
April 5, 2023
Cornwall Ontario – Cornwall Community Hospital has been recognized by Ontario Health for its outstanding contributions to organ and tissue donation in Ontario.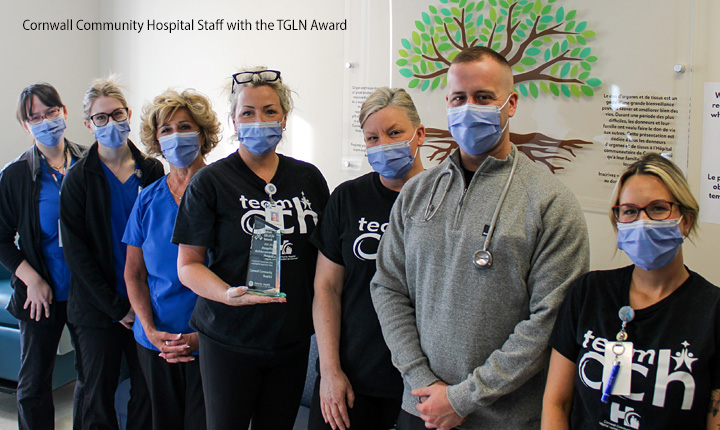 Cornwall Community Hospital (CCH) was presented with the Provincial Conversation Rate Award for reaching a conversion rate of 100 percent in 2021/2022., which exceeds the target of 63 percent set by Ontario Health. The conversion rate is the percentage of potential organ donors (patients who pass away in a hospital setting and are deemed medically suitable for donation) who went on to become actual donors.
CCH has also received the Provincial Eligible Approach Rate Award for exceeding the provincial eligible approach rate target of 90 percent set by Ontario Health (TGLN), achieving 100 percent in 2021/2022. This award recognizes hospitals for demonstrating leading practices by facilitating a donation discussion with eligible patients/families of patients at end of life.
"Organ and tissue donation is an act of great kindness that can save and improve the lives of many people. CCH is a committed partner with Ontario Health (TGLN) to advance organ and tissue donation and we make every effort possible to facilitate discussions with families and potential donation candidates," says Jeanette Despatie, CCH President and Chief Executive Officer. "We sincerely thank all organ and tissue donors and their families who supported the decision to donate at a most difficult time."
"The success of organ and tissue donation in Ontario relies on the hard work and dedication of our health care partners. CCH has made an outstanding contribution to organ and tissue donation and this award is a reflection of their commitment to implementing leading donation practices, integrating donation as part of quality end-of-life care, and continuously working to save lives through organ and tissue donation," says Rebecca Cooper, Vice President, Ontario Renal Network and Trillium Gift of Life Network, Ontario Health. "Every Ontarian has the opportunity to demonstrate their support for this life-saving work by registering their consent to organ and tissue donation at BeADonor.ca."
Trillium Gift of Life Network is responsible for organ and tissue donation and transplant in Ontario and is now part of Ontario Health, an agency created by the Government of Ontario with a mandate to help ensure that Ontarians receive the best possible health care.
April is Be A Donor Month in Ontario.
Today, almost 1,400 people are on the waitlist for a lifesaving organ transplant, and every three days someone will die waiting. Over 90 per cent of Ontarians support donation, yet only 35 per cent have formally registered their consent. One donor can save up to 8 lives through organ donation and enhance the lives of up to 75 more through the gift of tissue. By registering consent to donate, you make your family aware of your decision to save lives.
Cornwall exceeds the province with a registration rate of 42 per cent, ranking 128 out of 170 communities in Ontario. Visit www.beadonor.ca/community/cornwall to register or find out more.
Jobs at CCH
Current employment opportunities at the Cornwall Community Hospital can be found on the Choose Cornwall Job Board
About the Cornwall Community Hospital
The Cornwall Community Hospital has historical roots that reach back beyond Confederation to 1897. Cornwall Community Hospital was incorporated in 2004 with the amalgamation of the Cornwall General Hospital and the Hotel Dieu Hospital, both with over 100 years of health care service to Cornwall and surrounding area. With the completion of a major redevelopment project in 2014, and the construction of the Addiction and Mental Health Centre two years later, the hospital consolidated all acute care and community based services on the McConnell avenue site.