Cornwall Hospital Introduces New Dining Experience for Patients
September 28, 2022
Cornwall Ontario – Cornwall Community Hospital (CCH) has introduced an entirely new patient-centred dining experience. In partnership with Compass One Healthcare, the Comfort Kitchen menu launching this week at CCH will offer patients homemade comfort foods to help stimulate appetites, increase food intake, and improve their overall experience while in hospital.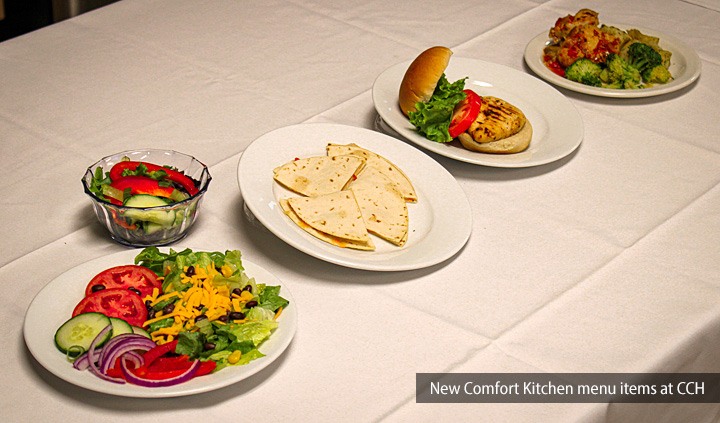 The Comfort Kitchen menu offers patients with a choice of two Daily Chef's Specials at each meal period and an Always Available section. Patients browse the menu, choose their meal, and provide their choices to CCH dietary staff who visit them at bedside prior to mealtime.
"Not only will this new menu provide our patients with comforting and familiar flavours, but it also gives them more selection and variety," said Jeanette Despatie, CCH's President and Chief Executive Officer.
Comfort Kitchen's menu items are cooked from scratch using fresh ingredients; the hospital's kitchen was specially retrofitted to accommodate this new process.
Menu items available from the Comfort Kitchen at CCH include chicken parmesan, Indian butter chicken, roast beef with gravy, black bean soup, quesadillas, egg and cheese breakfast sandwiches, and a selection of fresh pastries.
"The goal of our Comfort Kitchen is to continually elevate the perception of what is typical hospital food. It offers comforting and familiar flavours that take patients away to a place where they find solace, such as their home, their favourite restaurant or dining with friends," said Leta Hill, EVP of Compass One Healthcare. "Combining wholesome and flavourful ingredients packed with nutritional benefits, these meals will provide a more comforting and nutritious mealtime experience for patients at Cornwall Hospital."
The hospital has also introduced all-new diet plans to coincide with the Comfort Kitchen menu to accommodate a variety of patients who may require different textured foods, consistencies, etc.
CCH is only one of two hospitals in Ontario to implement Compass One Healthcare's Comfort Kitchen.
Jobs at CCH
Current employment opportunities at the Cornwall Community Hospital can be found on the Choose Cornwall Job Board
About the Cornwall Community Hospital
The Cornwall Community Hospital has historical roots that reach back beyond Confederation to 1897. Cornwall Community Hospital was incorporated in 2004 with the amalgamation of the Cornwall General Hospital and the Hotel Dieu Hospital, both with over 100 years of health care service to Cornwall and surrounding area. With the completion of a major redevelopment project in 2014, and the construction of the Addiction and Mental Health Centre two years later, the hospital consolidated all acute care and community based services on the McConnell avenue site.