Cornwall Industrial Vacancy Rates At An All Time Low
June 6, 2019
Cornwall Ontario – Vacancy rates for manufacturing and warehouse space have reached an all time low in the Cornwall region say two long-time Cornwall realtors.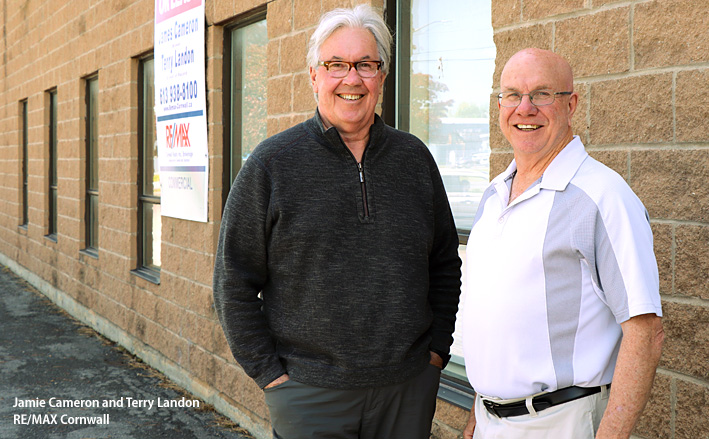 "We are down to less than 40,000 sq.ft. of built industrial space available for lease in Cornwall and SDG, which represents a vacancy rate of less than 1%," says Terry Landon, a broker with RE/MAX Cornwall Realty. "This is the lowest inventory we have seen in over 40 years."
An industrial vacancy rate of less than 1% in Cornwall is significantly less than that in Toronto, where it is estimated at 2-3%, or in Western Canada, where it is estimated around 4-7%. Industrial lease rates in Cornwall are also typically about half of lease rates in major Canadian cities.
Mr. Landon and his business partner Jamie Cameron are well known in Ontario and Quebec real estate circles as key contacts for people looking for information on available buildings and land in Cornwall's ICI sector – industrial, commercial, institutional. The duo have been involved in most of the large real estate transactions that have occurred in Cornwall for decades, helping to welcome firms such as UAP, Laminacorr and most recently Leclerc and Lallemand to Cornwall.
Demand from new clients, as well as growth from local firms, have steadily decreased the amount of available space.
"All signs suggest we need more buildings and that the time is right for investors to consider building on speculation," says Mr. Landon. "Fortunately, although built space is scarce, there is a good amount of serviced land to accommodate new development."
The City of Cornwall has over 300 acres available for sale in the Cornwall Business Park, and there are private landowners with land for sale as well.
Although available industrial space in the Cornwall region is low, that same cannot be said for commercial retail and office space.
"We have a fair amount of retail and office space on the market right now," notes Mr. Landon. "This is due in part to new development in areas such as Brookdale Avenue and the Cotton Mill District and in part to a changing retail landscape that is occurring across Canada. There are some good deals out there right now for retail and office space."
Mr. Landon and Mr. Cameron were recently recognized by RE/MAX as placing in the top 10 of RE/MAX agents receiving commercial commissions in the first quarter of 2019. This is a considerable achievement considering that there are over 21,200 RE/MAX sales associates across Canada.
Information on Land and Buildings in Cornwall
Additional information on relocating to Cornwall can be found in the Real Estate section on this website.