Cornwall Innovation Centre Hosts Pitch Night
November 29, 2018
Cornwall Ontario  – There is a strong spark of entrepreneurial spirit running through the Cornwall region.
This spirit was on full display at the recent Pitch Night organized by the Innovation Centre. The event drew dozens of people to hear pitches from local entrepreneurs who were vying for or cash prizes of $2500, $1000, and $500.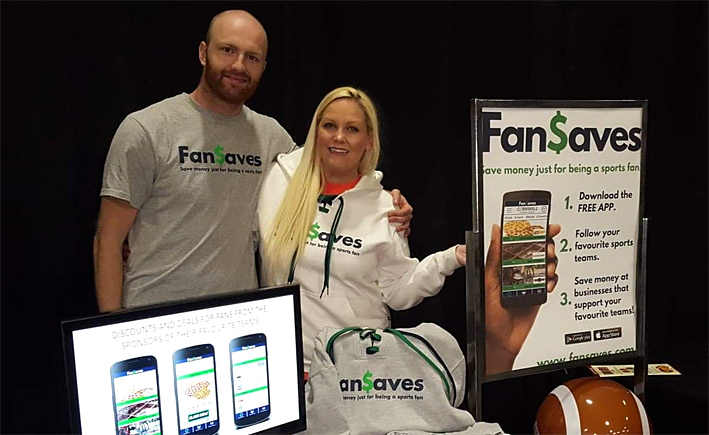 "The format requires the entrepreneur to pitch their company to a panel of judges." says Kelly Bergeron, Executive Director of the Cornwall Innovation Centre. "It ends up being a really positive experience for everybody involved."
Seven companies made pitches to a panel of business professionals made up by Alain Gravelle of Welch LLP; Valerie Dore, ofMcDonald, Duncan LLP and Johanne Delves from RBC. The judges were looking to score the participants on product/service, customer value, competitive landscape, business model and financial projections. The companies involved were:
FinWello
Cloud LED Signs
FanSaves
The Mad Makery
Blue Ocean CRM Inc.
Spinspo
 Sassy Threads
"Everybody did really well," noted Ms. Bergeron. "Each idea had its merit,  and we look forward to continuing to help each entrepreneur grow their idea."
At the end of the evening  the winners were the following:
1st place: FanSaves is a mobile app that allows sports fans to save money at businesses that sponsor their favourite teams.
2nd place: The Mad Makery is the creativity-fueled 3D printing business that turns imagination into creations with innovation.
3rd place: Sassy Threads is a company that creates weighted vests for kids who are autistic. The vests are made to look and be worn like a typical "off the shelf" garment, giving a more inclusive look so kids don't feel as if they are made to stand out.
"We have been pitching in so many big cities lately but to win in Cornwall is so special," said Shannon Ferguson, CEO of FanSaves. "The Cornwall Innovation Centre put on a great event and we are proud to have pitched alongside so many great  local businesses. Winning was truly an honour and we're so excited for what's next."
The prizes were sponsored by  RBC, McDonald Duncan LLP, and Welch LLP.
Future pitch events are planned for the New Year.
About the Cornwall Innovation Centre
The Cornwall Innovation Centre (CIC) helps local entrepreneurs spark, incubate and accelerate their business ideas. It offers a full range of content and programming including classes designed to empower entrepreneurs, talks from business leaders, and inspiration sessions from leading venture builders. The CIC is open to innovators and doers who seek to follow their dreams in building better business solutions and making an impact on the local and global scene.
More info: