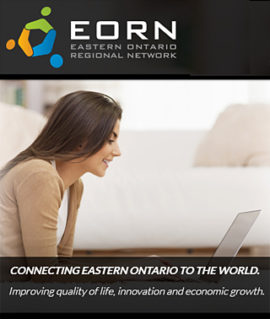 Cornwall Invests in Regional Communication Infrastructure
July 11, 2018
Cornwall Ontario – Cornwall is investing in a major project to increase capacity and coverage in the Eastern Ontario cellular network.
City Council has approved funding to the Eastern Ontario Regional Network (EORN) to support the $213 million project, the costs of which will born by a number of players, including the private sector, municipalities throughout the region as well as the Provincial and Federal governments.
"For Eastern Ontario to grow, people need high speed internet access at home, work and on the road," says Jim Pine, CAO of Hastings County and Co-Lead for EORN.   "They expect to access online content anywhere, anytime, on any device.  In order to connect to this universally connected world, Eastern Ontario needs a robust network of both fixed and mobile broadband."
Given its large size and varying topography, it is not surprising that there are gaps in cellular network coverage in Eastern Ontario – especially in remote rural locations. Capacity is another key issue as rapidly growing data demands have the potential to affect service levels in urban areas.
The EORN Mobile Broadband Project is a $213 million public private initiative that would build on EORN's high capacity, fibre-optic backbone network to help close the gap in cellular services.  The project is strongly backed by the Eastern Ontario Mayor's Caucus and the Eastern Ontario Warden's Caucus. The Federal and Provincial government are expected to contribute a minimum of $71 million each, with a minimum of $61 million coming from the private sector, and the remainder from area municipalities. Cornwall's share will be just under $300,000.
"This is a very wise investment by City Council, and one that will pay dividends in ensuring Cornwall continues to grow and prosper," says Peter Gault, President of Busitech, a Cornwall software company with products in over 70 countries around the world. "It is extremely important that our region keeps pace in offering a comprehensive and competitive communications network to business, residents and visitors."
EORN's previous project involved the construction of a 5,500-km fibre-optic throughout Eastern Ontario which resulted in improved wired and wireless connectivity for residents and businesses. The City of Cornwall supported that project, and as a result saw significant investments in the local communications infrastructure.
In 2017, Xplornet Communications established a $40 million regional office in Cornwall, a direct result of the EORN project. Xplornet now employs over 130 people in Cornwall.
For more info, check out the following online resources: