Cornwall Job Fair Planned for October 3
August 17, 2018
Cornwall, Ontario – Cornwall's economy continues to be strong, with employers expanding and adding new positions.
Job seekers will have a chance to meet employers up close and personal at the Cornwall and Area Job Fair in October.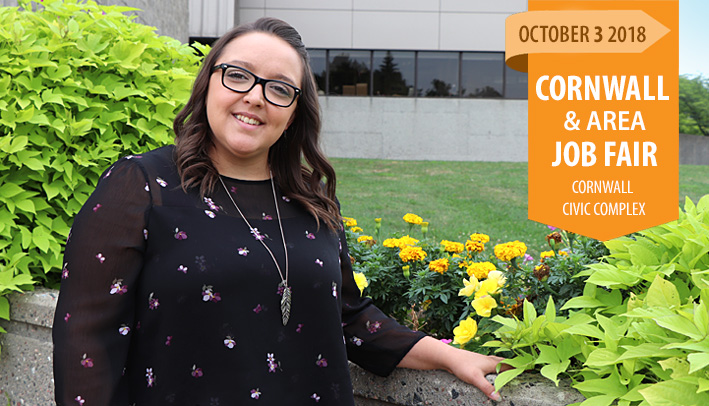 The Job Fair will be held at the Cornwall Civic Complex on Wednesday, October 3 and is being organized by the Social Development Council (SDC). The event is free and open to anyone seeking employment or volunteer opportunities in Cornwall, Stormont, Dundas, Glengarry, and Akwesasne.
"All indications point towards a continuing positive hiring climate for the Cornwall region, with some employers looking further and further afield to find the right people," says Carilyne Hébert, Executive Director of the SDC.  "The Job Fair has proven to be an effective way to showcase what our business community and job market has to offer."
The Job Fair will feature two sessions to allow people with different schedules attend the event:
First Session: 11am-2pm
Second Session: 4pm-7pm
Both sessions will feature Cornwall, SDG, and Akwesasne employers from various sectors including transportation, warehousing, service and sales, retail, hospitality, and social services. An information session that will help companies learn more about available government support programs, such as the Canada Ontario Job Grant, is also being planned.
This is the fourth consecutive year that a Job Fair has been held in Cornwall. Last year's event featured 30 employers and attracted nearly 600 job seekers from across the region.
Exhibitors
Exhibitors include the following employers, along with over a dozen service providers:
Walmart Logistics
Olymel
Xplornet
Morbern
SigmaPoint Technologies
Matrix Logistics
Leclerc Biscuits
Laminacorr
Cantech IPG
Cornwall Community Hospital
City of Cornwall
Service Canada
International Truckload Services
Lanthier Bakery
Kraft Heinz
Canadian Coast Guard
Conseil scolaire de district catholique de l'Est ontarien
Conseil des ecoles publiques de l'Est de l'Ontario
ParaMed
Carefor
Hood Packaging
Clean all Environmental Services
Clean International
Pactiv
Chartwell
Community Living
Best Buy
D's Medical Transit Services
Maison Interlude House
Fan Saves
Drake International
Synergie Hunt International
Sun Life Financial
Primerica
Bayshore Home Care
Presentex Canada Inc.
Skanna Systems Investigations Inc.
Available Jobs
Job seekers will be able to speak directly to recruiters at the Job Fair, and personally hand over their résumés. A list of available jobs in Cornwall can be found on the ChooseCornwall.ca Job Board.
Booth Registration
Job Fair booths are available for employers and social service agencies looking to fill part-time and full-time positions for the fall and winter season. Companies interested in registering for a booth should contact Carilyne Hébert at 613-703-7563.
This event is being organized by the Social Development Council of Cornwall and Area – Employability Network, in cooperation with the City of Cornwall, Cornwall Economic Development, Job Zone d' Emploi, Glengarry Interagency Group, Eastern Ontario Training Board  and the Akwesasne Area Management Board.
More Information
For more information and to register, job seekers, volunteers, and employers are encouraged to visit http://sdccornwall.ca/jobfair