Cornwall Joins COVID-19 Recovery Network
November 19, 2020
Cornwall Ontario – The Cornwall Business Enterprise Centre will soon be offering enhanced services to local businesses in Cornwall SDG and Akwesasne with the establishment of the COVID-19 Recovery Network.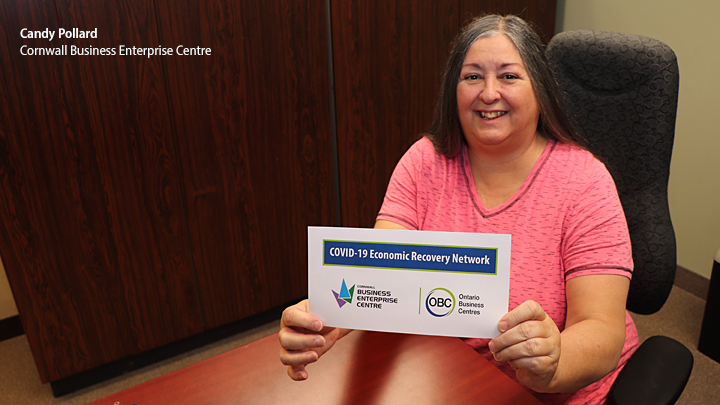 Last  month, the Small Business COVID-19 Recovery Network Program was announced to help businesses affected by COVID-19. That network is taking shape, thanks in part to a sizeable grant to  the Small Business Enterprise Centre Network of Ontario.
"Many small businesses across the province were hit hard by COVID-19 and it is not business as usual for them," said Vic Fedeli, Minister of Economic Development, Job Creation and Trade. "Small Business Enterprise Centres play an important role in communities across the province and this new initiative will offer valuable new financial planning and recovery resources for main street businesses."
The Ontario government is investing over $2.2 million through the Ontario Together Fund to provide small businesses with free, tailored financial advice and online training to help them make informed financial decisions and navigate the unprecedented economic circumstances brought on by the COVID-19 pandemic.
The new funding will assist The Small Business Enterprise Centre Network to expand the capacity of virtual business advisory services and improve access to funding, crucial information, and resources to equip businesses to respond to Covid-19 and grow.  A central online portal with regional connections will be created, supported by awareness and marketing campaigns to improve overall access. Training and mentorship programs will be expanded and offered in both official languages.
Some of the grant money is earmarked for the Cornwall region, and a report will be reviewed by City Council at its upcoming meeting.
"Cornwall Economic Development, along with City staff across a wide range of departments, continue to support our local businesses as they rise to meet the challenges presented by the pandemic," says Mayor Bernadette Clement. "I look forward to seeing these additional resources deployed by the Business Enterprise Centre to help business owners in Cornwall, SDG and Akwesasne."
The Cornwall Business Enterprise Centre is part of the Small Business Enterprise Centre Network comprising 47 offices across the province. It has joined its fellow centres in responding to the pandemic with online resources, webinars, expert mentors, and virtual consultation services to local businesses.
Winter Webinar Series
The Cornwall Business Enterprise Centre will be holding a number of webinars over the next weeks to help business owners adopt best practices. Click on the following link for more info:
About the Small Business Centre Network
The move to a fully online delivery model knocked down geographic barriers and Business Enterprise Centres across the province found themselves able to collaborate and share resources in ways they had never done before.  For more information about the Small Business Centre Network, visit www.ontariobusinesscentre.ca
About the Cornwall Business Enterprise Centre
The Cornwall Business Enterprise Centre helps small business owners and entrepreneurs succeed in Cornwall, Stormont, Dundas, Glengarry & Akwesasne by offering information, tools and support during the start-up and growth stages of business operation. This includes administration of the Summer Company and Starter Company PLUS programs. The Cornwall Business Enterprise Centre is operated by Cornwall Economic Development and funded in part by the Government of Ontario.
The Cornwall Business Enterprise Centre is located at 100 Water Street East (Cornwall Civic Complex) and can be contacted by phone at 613-930-2787 x2276 or online at: