Cornwall Nissan Opens New Dealership on Brookdale
December 2, 2019
Cornwall Ontario – Innovation that excites.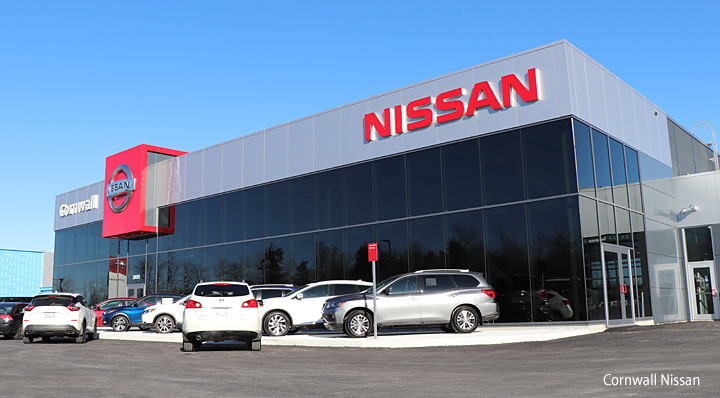 It may be the Nissan Canada slogan, but those words also aptly describe Cornwall Nissan's new home on Brookdale North.
"One step inside and most of our customers don't know where to look first," chuckles Ayman (Gaby) Gabriel, who owns the dealership with his wife, Renée Therrien. "The space is quite unlike anything else in Cornwall – it is big, but also comfortable and designed with the customer in mind."
The 28,000 sf building includes room for 10 cars in the interior showroom, complete with a customer lounge, modern sales offices and interactive displays where customers can customize their orders. It even has two indoor bays where customers are introduced to their new vehicle.
"Nissan asked us to expand and advance to their highest design standards, the Nissan Retail Environment Design Initiative (NREDI 2.0)," notes Mr. Gabriel. "Our growth is due to the support of the local community, and we are happy to reinvest in Cornwall."
The new building represents a doubling of the physical space the previous dealership location had, and no part of the operation has been spared a makeover. The service department now has 10 climate-controlled service bays, state-of-the-art diagnostic and service equipment, a comfortable waiting lounge and a full-service parts counter. The building also includes a charging station for electric vehicles.
"This project involved hard work and valuable input from every member of our team," says Renée Therrien. "We consider our employees to be family."
Mrs. Therrien and Mr. Gabriel purchased Cornwall Nissan in 2002 and over the past 17 years have steadily increased their customer base, which includes people from as far away as Toronto and Rivière-du-Loup.
"People have told us they come back because of the service they receive here, they really enjoy dealing with us and that's what we like to hear," notes Mrs. Therrien.
Cornwall Nissan has been joined on Brookdale North by a brand new Uptown Kia dealership, which opened November 30. The former Cornwall Nissan building at Brookdale and Ninth will undergo renovations to accommodate Cornwall's first-ever Mitsubishi dealership, which should open in the first quarter of 2020.
With the construction of the new homes for Cornwall Nissan and Uptown KIA, as well as welcoming the Mitsubishi brand to the area, Mr. Gabriel and Mrs. Therrien have had a very busy year.  Employment has increased to 63 employees across the two dealerships with more to come.
"We are very appreciative of the support we continue to receive in the community and invite everyone to come and meet us at our new locations!"
Cornwall Nissan is located at 2605 Brookdale Avenue and is open 6 days a week. Cornwall Nissan can be reached at 613-933-7555 or online at