Cornwall Police to Hold Career Info Session
February 4, 2019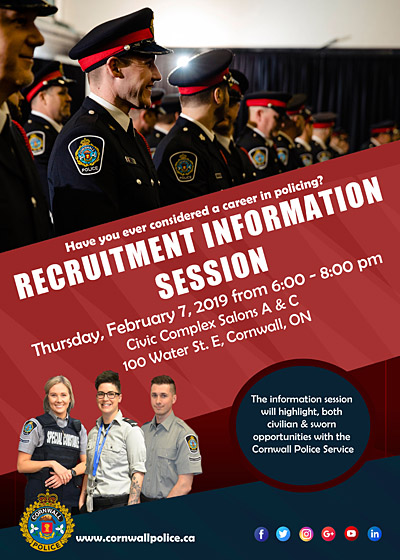 Cornwall Ontario – Have you ever considered a career in policing?
The Cornwall Police Service will be running two separate information sessions on February 7th to profile the many different employment opportunities the Cornwall Police Service has to offer.
"The Cornwall Police Service in partnership with the community is committed to the pursuit of excellence and keeping our city safe, and in order to do that we need the best possible team," says Chief Danny Aikman. "We invite all those looking for a new challenge to drop by our information session."
Two separate information sessions will be held in the Civic Complex Salons from 6-8 pm on February 7th. One session will highlight civilian opportunities (such as Dispatchers, Data Input Clerks, Special Constables, Records Clerks, etc.), and one session will highlight professional opportunities (such as Constables, Forensic Identification, Criminal Investigations, etc.).
The CPS is currently recruiting for:
Police Constables
Auxiliary Police officers and
part-time dispatchers
Other positions may become available over the next several weeks and months.
Job seekers are invited to drop by the Complex and learn more about the recruitment process.
About the Cornwall Police Service
The Cornwall Community Police Service has served the citizens of Cornwall since 1784 and polices an area of 62 square kilometers. The Service is currently comprised of 87 officers, 36 civilians, 10 special constables and 13 part-time staff members.