Cornwall Posts Positive Population Increase
February 9, 2022
Cornwall Ontario – The City of Cornwall's population is growing – at the highest rate in recent decades.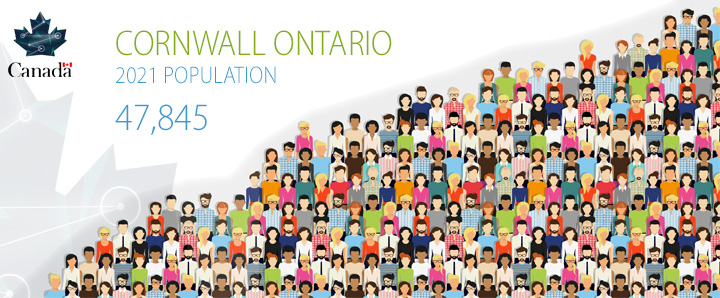 Cornwall's 2021 population tally sits at 47,845, which represents an increase of 2.7% from the 2016 population of 46,589. By comparison, Cornwall's growth rate of 2.7% is more than 5 times the growth rate of the community 2011 to 2016.  The numbers come from the 2021 Census of the Population by Statistics Canada.
"We are very pleased to see our population grow as our economy grows," says Mayor Glen Grant. "City Council adopted strategic priorities that speak to population growth, and we look forward to attracting even more new residents and expanding our workforce."
Cornwall's population figure of 47,845 also represents the highest number ever recorded, surpassing the previous high in 1996 of 47,403.
The population of the United Counties of Stormont Dundas and Glengarry sits at 114,637, representing an increase of 1% from 2016.
From 2016 to 2021 the population of Ontario grew 5.8% which is slightly faster than Canada as a whole, which grew by 5.2%. Canada's population grew at almost twice the pace of every other G7 country during that time period.
Information from the 2021 Census will be available in increasing detail as Statistics Canada releases more data over the next several weeks. The following information was released today:
Cornwall – 2021 Census Data
| | |
| --- | --- |
| Population, 2021 | 47,845 |
| Population, 2016 | 46,589 |
| Population percentage change, 2016 to 2021 | 2.7 |
| Total private dwellings | 22,214 |
| Private dwellings occupied by usual residents | 21,386 |
| Population density per square kilometre | 777.9 |
| Land area in square kilometres | 61.50 |
Looking to Move to Cornwall?
Looking to move to Cornwall? Check out our Living section for info on housing, education and more, browse available jobs on the Job Board, and ask for a free Welcome Kit via our Request Info form!
Related Articles
More Information
Thanks to the overwhelming majority of households that responded in 2021 (98%), StatCan is able to provide an accurate and detailed portrait of Canada that will be accessible to all Canadians for free in the months ahead.