Cornwall Property Designated Investment Ready: Certified Site
March 20, 2019
Cornwall Ontario – A 121 acre site in the Cornwall Business Park has been designated as an Investment Ready: Certified Site by the Province of Ontario.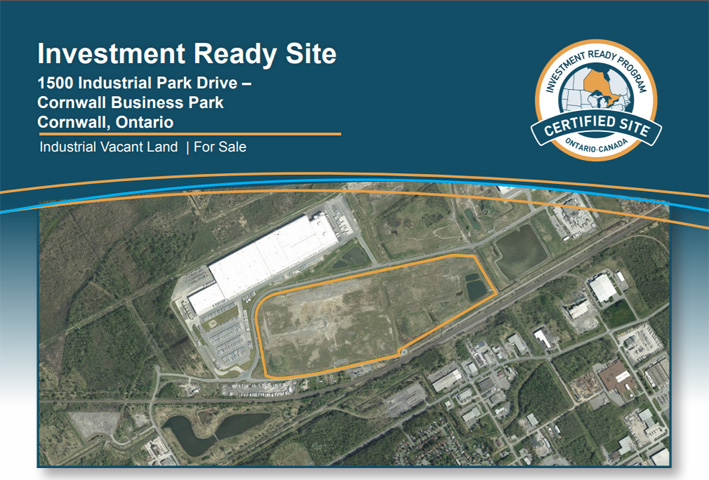 The site in question is located on Industrial Park Drive just north of the CN Main Line. The property has been cleared and levelled and pre-servicing work has been completed to accommodate a building of 500,000 sq.ft. or more.
"This particular site will be of interest to logistics companies and manufacturers looking for site for a large operation," says Bob Peters, Division Manager of Economic Development with the City of Cornwall. "The Investment Ready: Certified Site designation is internationally recognized and we look forward to working with the Province to market this opportunity."
An Investment Ready: Certified Site designation is issued to properties that have successfully completed a set of program requirements set out by the Province to demonstrate that the property is primed for development and ready for investment. At the current time there are 20 such sites available for sale in Ontario, of which the Cornwall site is the second largest.
Investment Ready: Certified Sites are incorporated into a variety of marketing campaigns and strategies undertaken by the Province to attract international investors, which includes a profile of each property on the Invest in Ontario website. The Cornwall property will be actively promoted to global investors using the Province's international marketing strategies and networks to generate qualified leads.
As part of the process of certifying the site, the City undertook a number of efforts to compile detailed property information; information which is now available to  investors that will facilitate site-selection decisions.  You can learn more with the following resources:
In addition to the 121 acre site, Cornwall Economic Development currently has 260 acres that are available for sale and development. Cornwall Economic Development is available to answer any questions regarding available land and/or buildings in Cornwall.
About the Cornwall Business Park
The Cornwall Business Park is located in the eastern part of the city, immediately adjacent to Highway 401. At well over 1600 acres, the Business Park is home to some of Canada's largest distribution centres and award-winning manufacturers, food processors, transportation companies and more. Fully serviced land in the Business Park is currently for sale at $30,000 per acre, making it some of the most affordable land in Ontario.
About Invest in Ontario
Invest in Ontario is the brand name for investment services offered through the Ministry of Economic Development Job Creation and Trade. Invest In Ontario has both a domestic and international facing mandate to secure increased investment in key sectors while strengthening the overall competitiveness of Ontario firms. Services offered include tailored insight and intelligence on a variety of site selection factors, including pre-qualified premium sites through the Investment Ready: Certified Site Program, the first province-wide program of its kind in Canada.