Cornwall Publishes First-Ever Community Guide
May 9, 2019
Cornwall Ontario – Information on municipal programs and services is a little bit easier to access for Cornwall residents.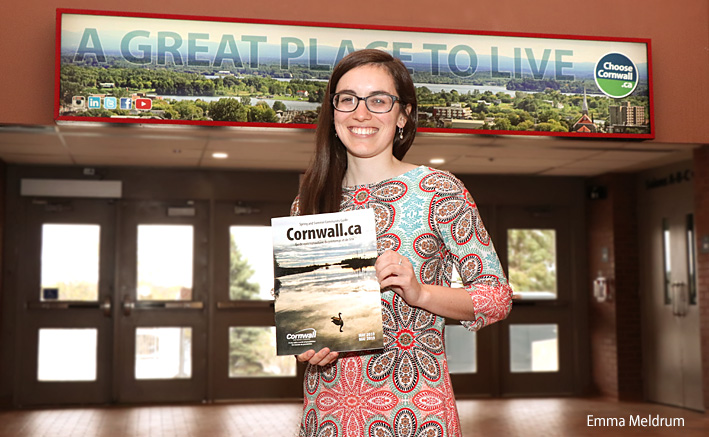 The City of Cornwall's first-ever community guide was published earlier this month and has been delivered to approximately 20,000 households this week.
The 48 page guide is fully bilingual, and features information on recreation programs, 2019 construction projects and more – including the often referenced waste collection calendar. Almost every City department is featured in the publication, including Cornwall Transit, Fire, Paramedic and Police Services and the Cornwall Public Library.
"I am so pleased to share this 'first' with you – our first community guide," said Mayor Bernadette Clement. "We are so privileged to live in a beautiful and dynamic community. I hope this guide will open your eyes to everything our vibrant community has to offer residents."
The guide was developed by the City's public information coordinator Emma Meldrum and published by the Seaway News.  The look and design of the publication was created by Kim Poirier-Froats and the cover features a photograph of the Cornwall canal taken by local photographer Lee Ladouceur,   The Guide is supported with advertising from several local businesses.
The Community Guide is a useful companion to the City's website, Cornwall.ca, which was recently redesigned and relaunched earlier this year.
"There is a lot of information to share, and we connect with so many residents via our website and social media," says Ms. Meldrum. "The Community Guide is more hands-on, and response has been very positive from residents. It was a true collaborative effort with dozens of City staff assisting."
The Community Guide will join other publications such as Cornwall Tourism's Visitor Guide and Cornwall Living, and will be a popular addition to the information packages that Cornwall Economic Development sends out to new residents.
The Guide has an overall circulation of over 24,000. Additional copies are available in City of Cornwall facilities such as the Civic Complex, Benson Centre, City Hall and the Cornwall Public Library.
More Information
The City of Cornwall is a vibrant city located on the St. Lawrence River in Eastern Ontario and is home to 46,589 residents. The City of Cornwall was one of the first municipalities in Canada to develop a website and has a strong social media following. You can learn more online: