Cornwall Showcased at Medical Recruitment Fair in Montreal
September 12, 2022
Cornwall Ontario – Cornwall's Medical Recruitment Team is in Montreal this week to speak to medical professionals from the Fédération des médecins résidents du Québec.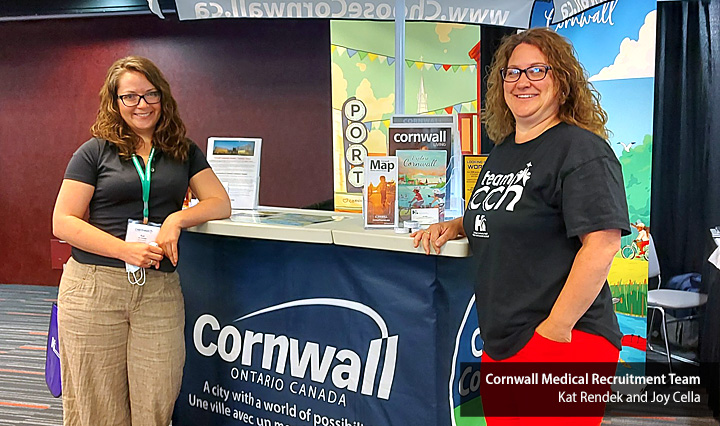 The event, called Outside Quebec Career Day, provides an opportunity for Quebec medical residents to meet with representatives of health establishments from across Canada who will be on site for the occasion. Cornwall has attended this career exposition for more than 15 years.
"The Outside Quebec Career Day is one of the best trade shows for medical recruitment in Eastern Canada," says Joy Cella, Coordinator of Medical Affairs with the Cornwall Community Hospital.  "Attendees are a mix of family physicians and specialists so we are able to maximize our efforts and meet community needs."
Cornwall's Medical Recruitment efforts are coordinated by Cornwall Economic Development and supported by local healthcare institutions like the Cornwall Community Hospital and Seaway Valley Community Health Centre. Representatives from Cornwall attend a number of targeted events throughout the year, and provide information on why Cornwall would be a good place to build a career in health care. A key component of that message is the newly renovated Cornwall Community Hospital, the opportunities at the Mental Health and Addictions Service Centre, and the financial incentive programs available for those interested in family out-patient care.
"Cornwall is a great place to live and a wonderful place to build a career in health care," says Kat Rendek, Project Coordinator with the City of Cornwall. "Career fairs provide the opportunity to showcase the community and answer any questions in person."
The Fédération des médecins résidents du Québec is made up of the four medical resident associations linked to the University of Montreal, McGill University, University of Sherbrooke and Laval University (Quebec City) healthcare system. It has some 3,600 members, who deliver services to the public in Quebec's healthcare establishments. One quarter of these medical residents work in family medicine, while the remainder are in other medical, surgical and laboratory specialties. More than 57% of medical residents are women.
Job Postings
At the show, the Cornwall team will be highlighting specific needs in the local community for medical professionals. Many of the current employment opportunities can be viewed on the ChooseCornwall.ca Job Board.
Medical Recruitment and Medical Scholarships
Cornwall has long supported community health care initiatives, especially the recruitment of medical professionals and the ongoing enhancement of community health care assets. Cornwall also has a Medical Scholarship program. To learn more click on the following link: