Cornwall Showcased at Outdoor Adventure Show
March 24, 2022
Cornwall Ontario – Cornwall Tourism will be showcasing the region's vast outdoor offerings at the Outdoor Adventure Show in Montreal this coming weekend.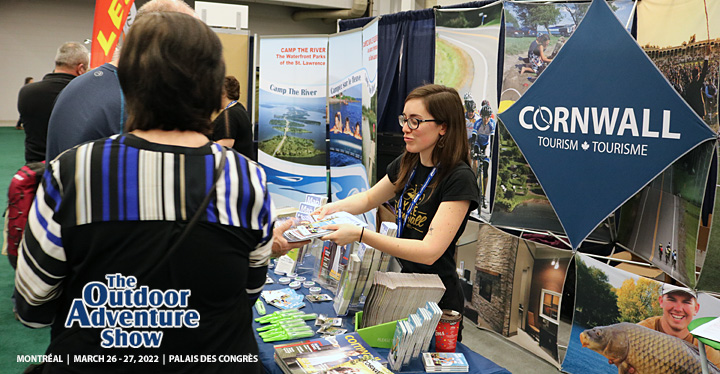 Held at the Palais des congrès, the Outdoor Adventure Show is Quebec's largest showcase of outdoor gear and adventure travel experiences. Cornwall Tourism will use the occasion to showcase all the region has to offer to outdoor enthusiasts – from cycling and camping to fishing, golf, scuba diving, nature trails, race events and more.
"When it comes to outdoor experiences, the Cornwall region really has it all," said Kevin Lajoie, Tourism Officer. "Visitors we speak to are often amazed and how green the city is and they are impressed with our waterfront, parks and cycling trails. Our goal at the show is to encourage more people to visit Cornwall and enjoy all that we have to offer."
The two-day event features over 250 exhibitors and marks a return for the show following a two-year hiatus due to the Covid-19 pandemic. Cornwall Tourism has been an exhibitor at the show for several years now.
"It's a great way for us to connect directly with potential visitors who may be looking for new getaway ideas," said Amy Malyon, Tourism Coordinator. "Our proximity to Quebec and great amenities make us a great option for Quebec travelers in search of a fun day trip or weekend away."
Show Details
The show runs from 10 am to 6 pm on Saturday, March 26th and 10 am to 5 pm on Sunday, March 27th and Cornwall Tourism's booth number is 1308. Tickets can be purchased online in advance.
At the show, Cornwall Tourism will be handing out copies of the brand new 2022 Explore Cornwall Visitor Guide as well as cycling maps and other useful publications.
The Outdoor Adventure Show is one of a number of consumer events that Cornwall Tourism plans to attend in 2022. The tourism office will also be attending the 2022 Montreal Bicycle Show from April 29th – May 1st at the Olympic Stadium and the 2022 Sport Events Congress in November.
Additional Information
For additional information on the 2022 Outdoor Adventure Show, please visit the event website: