Cornwall Square opens The Square Marketplace
November 27, 2020
Cornwall Ontario – Cornwall's burgeoning maker scene will be on full display in a new venue this holiday season.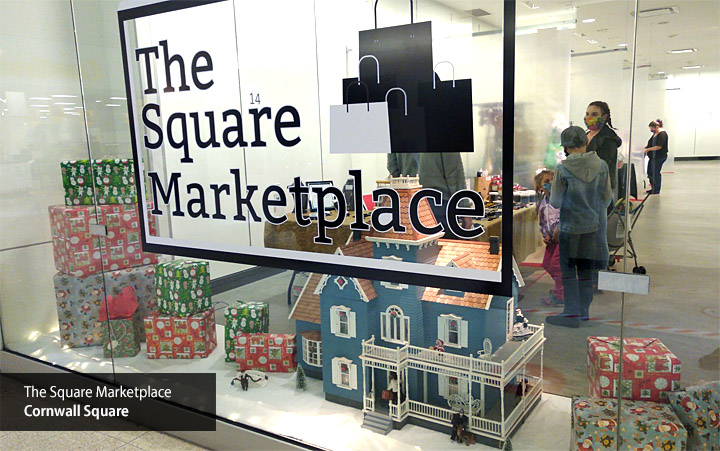 The Cornwall Square has opened The Square Marketplace to house local makers, artisans and small business operators looking to sell their unique products. Two adjoining store units on the first floor of the shopping mall have been transformed into an indoor market with stalls for vendors to rent on a pop-up basis.
The vendors are spaced apart with plastic barriers, providing a safe and uniquely local shopping experience for residents in search of that one-of-a-kind gift.
"Cornwall Square is a proud part of the community and we are trying to support the community and our small business owners as much as we can," says Leo Doucet, Property Manager at Cornwall Square. "The turnout for the marketplace has exceeded our expectations and we are thrilled that it has been so well received."
Reneé Gadbois of Driftwood Candle Co. was one of the first vendors to use The Square Marketplace and she was quite pleased with the result.
"Having the opportunity to be in the mall and be available in-person for people to see our products is huge for our community," says Ms. Gadbois. "One of the major advantages to buying local products is the high-quality product and service, which is harder to show online."
Like other small business owners, Ms. Gadbois has sensed an increased interest in shopping and supporting local this holiday season.
"Consumers seem to be more willing to spend money on a local product rather than just order all of their gifts through Amazon, which is really good news for us."
The concept of The Square Marketplace builds upon the success of the this summer's Pop-Up Shop program which invited merchants to display their wares in decorated shipping containers located outdoors on the Cornwall Square property facing Pitt Street.
Join the marketplace
Makers and vendors who wish to sell at The Square Marketplace can contact Natasha Lafave, Administrative Assistant, at 613-938-2118 or natasha@cornwallsquare.com for additional information.
About the Cornwall Square
The Cornwall Square is an indoor shopping centre in Downtown Cornwall featuring dozens of national-name retailers and restaurants. The mall is open from 9:30 am to 9 pm Monday to Friday, 9:30 am to 5:30 pm on Saturday and 11 am to 5 pm on Sunday.
The mall hours will be extended to 9:30 am to 7 pm (Saturday) and 9:30 am to 5 pm (Sunday) on the two weekends before Christmas. The mall will also be open on Christmas Eve from 9:30 am to 5 pm.