Cornwall Square Sold to Local Development Group
September 29, 2021
Cornwall Ontario – Cornwall based Weaving Baskets Group has agreed to purchase Cornwall Square from Group Quint.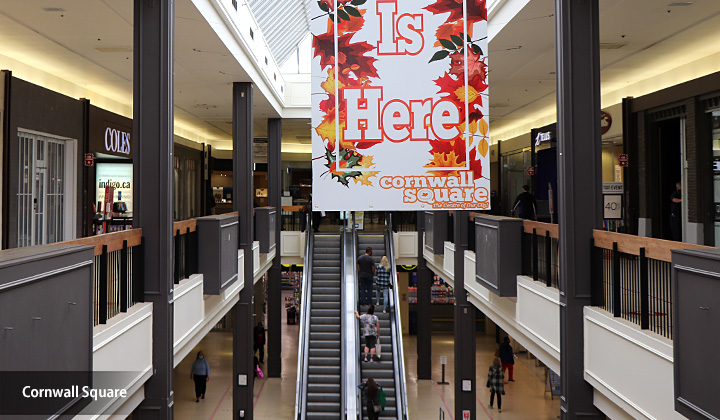 The closing is expected to occur on October 1st, 2021.
Cornwall Square is strategically located next to the Cornwall waterfront in the heart of the city's downtown sector. The two-level indoor shopping mall features 250,000 sq.ft. of leasable space and room for over 60 tenants. The site encompasses an area of approximately 9.16 acres and includes a four-level parking garage with 1,000 spaces along with an additional 180 parking spaces in an open lot. The property has long been the single largest shopping centre in the region and servers a trade area of approximately 113,000 people.
The shopping mall is currently home to a number of major retailers, including Shoppers Drug Mart, Coles, People's Jewellers, Dollarama and Tim Hortons. Work is currently underway to prepare space for new tenants, including Headliners Beauty Bar and Telus following the merger of Telus and Koodo.
"The retail industry is poised for greater stability, as consumer spending has remained steady during the pandemic, and Cornwall's economy is very strong," says Tom Hughes, Vice-President with Weaving Baskets Group.  " We believe there is still a place for brick and mortar retail, and as public health restrictions ease and things return to normal, there will be a restored interest in indoor shopping."
Cornwall Square was originally built in 1979 and expanded in 1989. In 2017, previous owners Partners REIT considered the possibility of turning the west end of the mall into residential apartments. It was a concept that was well received by the community. Weaving Baskets Group is considering all options as it pursues new tenants.
"Our goal is to restore Cornwall Square to its position as a landmark destination in Cornwall," said Mr. Hughes. "We are looking at a number of options including mixed-use development along with attracting new tenants to enhance the retail experience of the mall."
About Weaving Baskets Group
Weaving Baskets Group is a commercial real estate developer that owns and manages several major commercial properties in Cornwall. Weaving Baskets plans to move their Head Office to Cornwall Square following the closing date.