Cornwall to stay home to Canadian Forces School of Aerospace Control
December 22, 2020
Cornwall Ontario – Cornwall will be home to an integral part of the Canadian Armed Forces for several more years.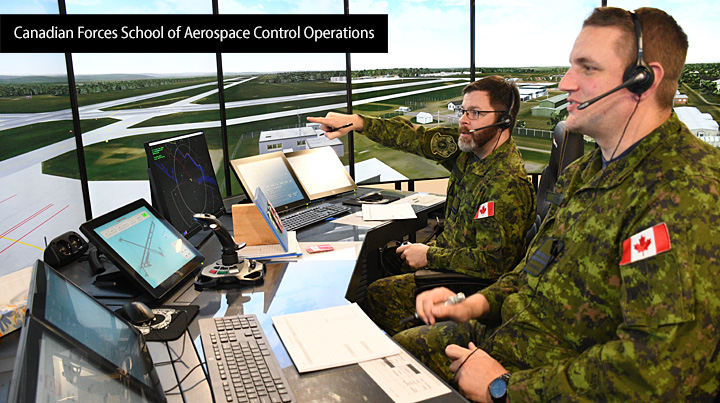 The Department of National Defence has extended its lease with NAV CANADA at the NAV CENTRE in Cornwall, Ontario, to 2025.  This is currently where the Canadian Forces School of Aerospace Control Operations (CFSACO) provides comprehensive training to aerospace control officers and operators.
"We are very pleased to be home to CFSACO and look forward to working with our military partners for many more years," says Kim Coe-Turner, General Manager of the NAV CENTRE. "The NAV CENTRE is ideally suited to host this type of training activity."
CFSACO offers a range of basic and specialty courses and conversion training to aerospace control officers and operators. Military members from coast to coast are trained to become either Air Traffic Controller/Operators or Air Weapons Controller/Operators.
The school has been located in Cornwall since 1979.
Among the many subjects on the course syllabus are airborne weapons, systems, ground control systems and radar, meteorology, radio telephony and procedures, air regulations and navigation orders, Aircraft performance characteristics, command and control directives governing the control of interceptor Aircraft as well as the states of alert.
NAV CENTRE is one of the most self-sufficient training complexes in Canada. Its academic side contains classrooms and some of the most advanced Aerospace Control Operations simulators in Canada. Students are able to stay onsite, which features a residential wing with over 500 bedrooms, a gym, tennis court, and swimming pool.
Successful graduates of CFSACO, once certified at their respective units, will be ready to start their first assignment as Aerospace Controllers/Operators, controlling live aircraft.
About NAV CENTRE
The NAV CENTRE is a training and conference venue owned and operated by NAV CANADA. It offers access to 535 guest rooms, 70 state-of-the-art classrooms and meeting rooms, as well as an auditorium. Other amenities include a gymnasium and fitness facilities as well as multiple dining options. The NAV Centre is also an accredited member of the International Association of Conference Centres (IACC), provided for adhering to globally-recognized standards in hospitality service.
For more information, visit www.navcentre.ca.
CFSACO was featured in the 2020 Year in Review. You can download the report via this article.