Cornwall Transit Unveils Exciting New Changes
October 28, 2022
Cornwall Ontario – Contactless payment is coming to Cornwall Transit on November 1st.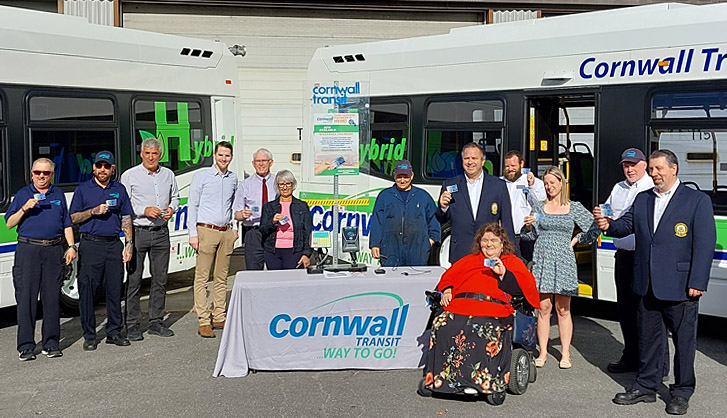 The new service will allow for riders to use a reloadable or disposable contactless smartcard to pay for their fare. You will be able to add your products to your reloadable smartcard through an online portal called "UseTransit". This will allow customers to create a user account and access all their previous purchases.
It should be noted that the card itself can also be reloaded in person and Transit users will still be able to pay for fare using previously purchased paper bus tickets or exact change.
"We are excited to launch the contactless payment initiative," said Jean Marcil, Manager for Cornwall Transit. "With this new technology this system provides a more user-friendly way for our customers to make their purchases. This is yet again another more environmentally friendly option as we are eliminating all paper products that are currently being sold and moving over to smartcards — reloadable and disposable options are available."
Cornwall Transit also recently unveiled its new Hybrid buses. These new buses will enable Cornwall Transit to have a 20% fuel saving per bus.
"With prices of fuel being so high at this time, we are seeing this as a more environmentally friendly option for the future," said Marcil. "Hybrid buses and contactless payment is the WAY TO GO to help keep our city green!"
Sign Up
To sign up for UseTransit, visit: https://cornwall.usetransit.com
About Cornwall Transit
Cornwall Transit operates 15 fully accessible Conventional Buses and 10 Handi-Transit buses. Established as a department of the City of Cornwall in, 1974, Cornwall Transit transports approximately 900,000 passengers annually. More info:
Related Articles
Categorised in: Business, Community, Environment, General, News