Cornwall Triathlon Returns to the River August 20-21
August 10, 2022
Cornwall, Ontario – After a two-year hiatus the Cornwall Triathlon is back August 20th and 21st and ready to host athletes once again.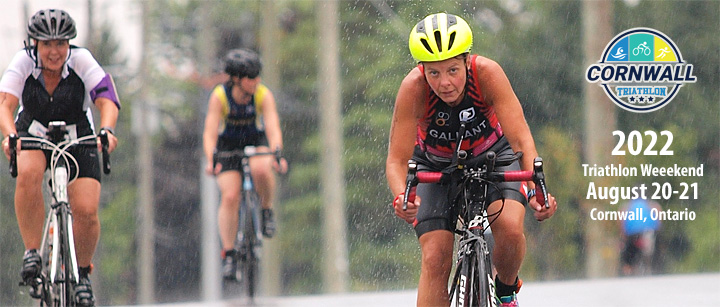 The Cornwall Triathlon is a unique experience that sets it apart from other triathlons in the area by offering traffic free courses along the scenic St. Lawrence River.
The Triathlon has grown to become a highly-competitive event attracting athletes from across Canada and the United States. With almost $3,700 in prizes, the Cornwall Triathlon is one of the biggest prize races in Ontario outside of those organized by the World Triathlon Corporation. The sport of triathlon features the sports of swimming, cycling and running, yet Cornwall Triathlon organizers also offer a Duathlon (running and cycling) and a 5km run.
"There really is something for everyone, including competitive athletes at the top of their game and kids trying out the sport for the first time," says Mathieu Despatie, Race Director. "It is also a great experience to observe, and we encourage people come down and cheer on the athletes."
Mr. Despatie is no stranger to the world of competition. Since 2006 he has been competing in triathlon and duathlon events all over Ontario and Quebec, and at Duathlon World Championships in Edinburgh, Scotland and Concorde, North Carolina.
While there may be some competitive classes, the Cornwall Triathlon also provides a weekend of fun activity for athletes of any age and ability. Beginning with the "Kids Day" Race on Saturday, young budding triathletes can compete in Triathlon (swim, bike, run) or Duathlon (run, bike, run) events in age grouped categories. All youth events take place in and around the beautiful Cornwall Aquatic Centre.
All young competitors will receive a medal, and Total Cyclery has donated a bicycle to the lucky winner of the draw prize on Saturday.
On Sunday, the event moves to École Secondaire L'Héritage as the home base for the adult athletes. Adults will swim in the St. Lawrence River, bike on a closed course through Le Village, and run on the Cornwall recreational path into the Gray's Creek Conservation Area. Sunday includes events geared to any ability; starting from the introductory "Try-A-Tri" distance to the competitive Olympic distance.
"Quote
There is still an opportunity to register and participate in the various events. Featured events over the two days include:
Try-A-Tri
This introductory event features a 200m swim, a 10km bike ride and a 2.5km run.
Sprint Duathlon
This event features a 2.5km run followed by a 20km bike and a 5 km run.
Sprint Triathlon
This event features a 750m swim, a 20km bike and a 5 km run.
Olympic Triathlon
This event features a 1500m swim, a 40km bike and a 10 km run.
Volunteer
The Cornwall Triathlon relies on over 200 volunteers to make our weekend triathlon a gem in Eastern Ontario and Western Quebec. To volunteer for the event, visit: https://www.cornwalltriathlon.com/volunteer.html
About the Cornwall Triathlon
The Cornwall Triathlon, sponsored by Bourgon Construction, has partnered with the Boys & Girls Club of Cornwall and SDG. Proceeds from the event will go towards enhancing programs and operations for the youth in the Cornwall area. Learn more about the Cornwall Triathlon by checking out the following websites: